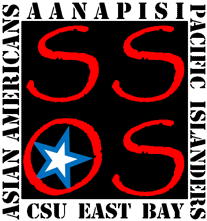 SSOS logo
Cal State East Bay students who are U.S. citizens and are of Asian American or Pacific Islander heritage are invited to apply for scholarships of $500 and $250 that are being offered by Program SSOS (Student Service Operation for Success) and APIFSA (Asian Pacific Islander Faculty and Staff Association). Candidates for a SSOS-APIFSA scholarship must submit two letters of recommendation, a personal statement, and the completed application form. The deadline for all applications is Friday, May 23.
Program SSOS provides a full range of academic support services, counseling and cultural activities for Asian American and Pacific Islander students, with an emphasis on reaching those historically underserved in higher education. The program, started in 2011, is funded by a grant from the U.S. Department of Education.
APIFSA was organized in the fall of 1980 by CSUEB faculty, staff and students. It promotes the awareness of current and historicall API issues, serves to advance personal, academic and professional growth of Asian and Pacific Islanders on campus.
Applications should be submitted via email to csuebapifsa@gmail.com.
Additional information and questions should be directed to Alex Chang, scholarship coordinator for the Asian/Pacific Islander Faculty and Staff Association, at (510) 885-2402 or alex.chang@csueastbay.edu.
-- Barry Zepel