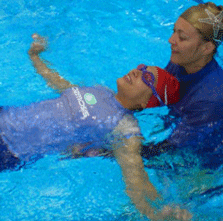 teaching someone to swim
Swimming lessons will be offered this summer on the Hayward campus of Cal State East Bay. They are for those individuals who would like to learn how to swim or to swim better. The purpose of these classes is to provide participants with the basic foundational knowledge, practice, and confidence to enjoy swimming leisurely. No prior lessons or experience is required.
Participants will be guided by instructor Bethany Hobbs-Helmus, an experienced swimming coach who has played water polo and swam competitively for eight years. Bethany was also a part of the 2008 CSUEB water polo national championship team.
The plan is to offer swim sessions during the month of July and August. Feedback from the campus community is needed, to determine the level of interest and to determine if there is a preference for days and times for taking the classes. The cost will be very reasonable.
If you have specific questions about these proposed swimming lessons, please contact Bethany Hobbs-Helmus at bethany.helmus@csueastbay.edu
We'll follow-up with everyone within the next few weeks with more information.