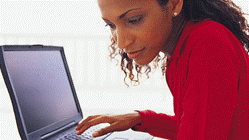 woman using laptop
Finish your Bachelor of Science in Business Administration (BSBA) through CSUEB Continuing Education's AACSB-accredited Online Business Administration Degree Completion Program. The program, which can be completed in as little as two years, is structured around a set of core courses enabling students to develop general business perspective and skills.
Students can choose from program options in Finance, Supply Chain Management, Corporate Management and Operations and Enterprise Resource Management.
Cal State East Bay's BSBA program is highly regarded and honored by The Best Colleges, which ranked the online BSBA Program six in the nation. The Princeton Review also named Cal State East Bay as one of the country's 294 "Best Business Schools" in 2011, for the sixth consecutive year.
--Erin Merdinger