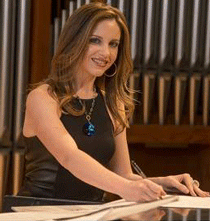 Jennifer Bellor, composer
Composer Jennifer Bellor's "Electric Vortex for wind ensemble and jazz combo," will be featured when the Cal State East Bay Symphony performs its final concert of the year at 7:30 p.m. on Tuesday, May 20, in the University Theatre on the Hayward campus. Admission is free to students and employees with a Bay Card ID. General admission is $7 and $5.
Perfomers will include Mitch Butler, Pat Klobas, Alan Hall and Jeffrey Burr. CSUEB music professor Danielle Gaudry will be the conductor. In addition to Bellor's compositions, others to be perfomed Tuesday night will include Holst's First Suite in E-flat, David Maslanka's Give Us This Day, and other works by Shostakovich, Ron Nelson and Ronald Lo Presti.
Bellor also will give a presentation on her music and compositional process at noon on Tuesday in room 1521 of the Music Building. Admission to this session is free and open to the public.
Additional information is available at (510) 885-3167 or visiting Music.
-- Barry Zepel