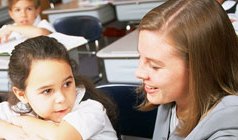 CSUEB offers online continuing education courses for teachers, enrollment deadline June 30
The enrollment deadline for Cal State East Bay's online teacher education courses, which are designed to help K-12 teachers learn strategies and techniques that will improve their classroom performance, is June 30 for the summer quarter.
Teachers looking to fulfill state requirements for professional development or earn credits for salary advancement are encouraged to enroll in one or more classes. Course topics include behavior in the classroom, disorders and disabilities, educational therapy, early childhood, health and safety, language arts skills, math skills, special student needs and classroom management and teaching strategies.
For more information, visit the course webpage.
--Erin Merdinger
© Copyright California State University, East Bay.
California State University, East Bay is the San Francisco East Bay Area's high-access public university of choice. CSUEB serves the region with campuses in Hayward and Concord, a professional development center in Oakland, and an innovative online campus. With an enrollment of more than 14,000, the University offers a nationally recognized freshman year experience, award-winning curriculum, personalized instruction, and expert faculty. Students choose from among more than 100 professionally focused fields of study for which the University confers bachelor's and master's degrees, as well as an Ed.D. in education. Named a "Best in the West" college, as well as a Best Business School, by the influential Princeton Review, Cal State East Bay is among the region's foremost producers of teachers, business professionals and entrepreneurs, public administrators, health professionals, literary and performing artists, and science and math graduates.