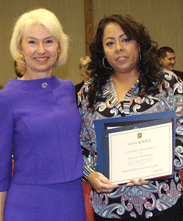 Carolyn Nelson (at left), dean of CSUEB's College of Education and Allied Studies, is shown congratulating a Promotora graduate. (Lauren Pitcher)
Carolyn Nelson, dean of Cal State East Bay's College of Education and Allied Studies, recently shared the story of a determined group of women walking up Carlos Bee Boulevard, pushing their baby strollers toward the campus. When offered a ride, the women declined, as they remained steadfast on their goal of 30 minutes of exercise per day.
Nelson shared this story of determination at the Academy of Health Promoters graduation ceremony held at CSUEB on May 30. This group of 25 women attended a six week training, also hosted at CSUEB and led by Tiburcio Vasquez Health Center (TVHC), preparing them to become Promotoras. The Promotora program is one of several programs sponsored by Hayward Promise Neighborhood, focused on improving the overall health of the HPN community.
The TVHC Promotora program began in 1999 and is based on the empowerment concept of Brazilian education theorist Paulo Freire. The Academy of Health Promoters trains the Promotoras in outreach, planning. They learn about health topics that include the importance of immunizations, diabetes, HIV prevention, cancer, and cardiovascular disease prevention. The intensive training equips the Promotoras with the essential skills to serve as community health volunteers in their neighborhoods and schools. Through the co-sponsorship of Hayward Promise Neighborhood and Kaiser Permanente, the graduates will begin their work specifically within the HPN community.
The Promotora graduation ceremony was a time of celebration and recognition, as the 25 participating women shared their testimonies of how this program impacted their lives. They received certificates, and were congratulated by Tiburcio Vasquez CEO David Viet, Hayward Mayor Michael Sweeney, Union City Mayor Carol Dutra-Vernaci, State Senator Ellen Corbett, and representatives from the offices of Congressman Eric Swalwell, and Alameda County supervisors Wilma Chan and Richard Valle.
-- Lauren Pitcher