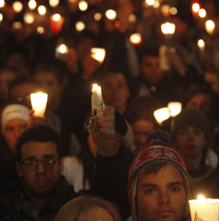 group of people holding candles
In memory of the those who lost their lives in the shootings that took place in the Isla Vista community adjacent to UC Santa Barbara, Cal State East Bay's Student Life and Leadership Program invites the campus community, UCSB alumni living in the Bay Area, and the general public to a candlelight vigil at the Agora Stage on CSUEB's Hayward campus, on Tuesday, June 3 at 7 p.m.
It is asked that those who attend bring a candle and a lighter, if possible. Since it is against University policy to have an open flame on campus, participants also are asked to bring a small cup or container for the candle. Student Life will provide candles as well.

"We will have an open mic for anyone who wants to share their thoughts and well wishes at the vigil," said Megan Lebre, Student Life advisor and program coordinator. "We will also provide paper and pens to write messages of support for UCSB."
-- Barry Zepel