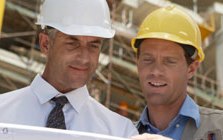 Cal State East Bay re-launches Construction Management Certificate Program in fall 2014.
Cal State East Bay is excited to announce the re-launch of the Construction Management Certificate Program starting this fall!
The program, which can be completed in as little as 12 months, gives construction industry professionals the skills and knowledge necessary to take on broader responsibility and advance their careers.
Students who take advantage of Cal State East Bay's Construction Management Certificate Program will be prepared for the myriad challenges they will face in the field day-to-day, from managing subcontractors and managing cash flow to controlling costs and minimizing risk.
Admission to the program is accepted on an ongoing basis, and three years of experience in the construction industry is recommended. However, individual courses can be taken without formal admission to the certificate program.
Classes are conveniently offered in the evenings at CSUEB's downtown Oakland Center.
--Erin Merdinger