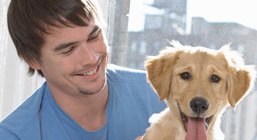 CSUEB offers online veterinary assistant certificate course
Have you always wanted to work in a veterinary office, but lack the necessary preparation?
Students who take advantage of Cal State East Bay's Veterinary Assistant Certificate Program will acquire the range of knowledge and skills that prospective employers are looking for in a veterinary assistant. The curriculum covers topics from veterinary medical terminology and veterinary office practices to recognizing signs and symptoms of illness and assisting a veterinarian with surgical and treatment procedures.
No application is needed to enter the program, and the online-only format makes it convenient for anyone in the world, not just those who live or work in the San Francisco Bay Area.
For more information on the program or to register for the course, visit here.
--Erin Merdinger
© Copyright California State University, East Bay.
California State University, East Bay is the San Francisco East Bay Area's high-access public university of choice. CSUEB serves the region with campuses in Hayward and Concord, a professional development center in Oakland, and an innovative online campus. With an enrollment of more than 14,000, the University offers a nationally recognized freshman year experience, award-winning curriculum, personalized instruction, and expert faculty. Students choose from among more than 100 professionally focused fields of study for which the University confers bachelor's and master's degrees, as well as an Ed.D. in education. Named a "Best in the West" college, as well as a Best Business School, by the influential Princeton Review, Cal State East Bay is among the region's foremost producers of teachers, business professionals and entrepreneurs, public administrators, health professionals, literary and performing artists, and science and math graduates.