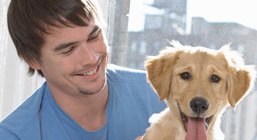 man with dog
Have you always wanted to work in a veterinary office, but lack the necessary preparation?
Students who take advantage of Cal State East Bay's Veterinary Assistant Certificate Program will acquire the range of knowledge and skills that prospective employers are looking for in a veterinary assistant. The curriculum covers topics from veterinary medical terminology and veterinary office practices to recognizing signs and symptoms of illness and assisting a veterinarian with surgical and treatment procedures.
No application is needed to enter the program, and the online-only format makes it convenient for anyone in the world, not just those who live or work in the San Francisco Bay Area.
For more information on the program or to register for the course.
--Erin Merdinger