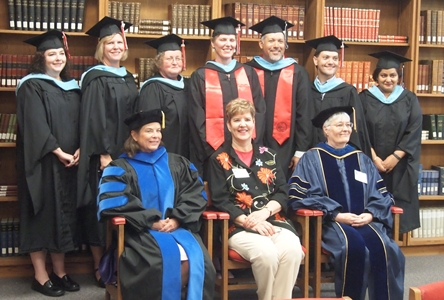 CSUEB's MS in Online Teaching and Learning graduates celebrate at program's 14th annual graduation celebration.
Cal State East Bay's online Master of Science in Education, option in Online Teaching and Learning (MS-OTL) Program recently held its 14th annual graduation celebration. With approximately 30 new degree candidates filing for graduation this year, the new addition have made for more than 550 graduates total since the program began in 1999.
Accredited by the Western Association of Schools and Colleges, the MS-OTL was the first fully online program at Cal State East Bay and is currently one of the only online teaching and learning training programs offered in the world. 
"As a professional development online teaching and learning program, we know the skills students need, regardless of the type of teaching/training they do, and can help them succeed in the online environment," said Nan Chico, director of both CSUEB's certificate and master's in online teaching and learning programs.
The program, which can be completed in as few as 15 months, consists of 10 courses ranging from "Designing Curriculum for Online Instruction" to "History and Culture of Online Learning Communities." Throughout the program, students discuss topics such as maintaining instructor presence in an online course, Web site navigation and student assessment. All of these concepts lead up to the final project in which students have to design their own online course.
With the program attracting students from around the world and a variety of professional disciplines, it is no surprise that the final student projects are as diverse as the students themselves. This year's student-designed courses included topics such as "Developing Biblical and Theological Courses for the Online Environment," "Fundamentals of Manual Therapy for the Physical Therapist Assistant" and "Online Teaching and Learning for Law Enforcement."
"Since I teach the first course in the program and the last course, I can observe the growth of the students," said Anne Guptill, who has been teaching in the MS-OTL program for 13 years. "It is an amazing experience for me to see the amount of knowledge they have gained. Students become more involved with course content and research. There is a higher level of interaction and writing skills have increased significantly." 
Since the program's inception, MS-OTL graduates have represented a variety of nations including the United States, Japan, England, South Africa, Canada, Vietnam, Germany, Saudi Arabia, South Korea, United Arab Emirates and Lebanon. Students also represent a variety of educational and teaching backgrounds such as K-12 teachers, university and college faculty, corporate and military trainers, educational administrators, curriculum designers and technical support staff.
For more information on CSUEB's online M.S. in Education, option in Online Teaching and Learning, visit the program's Web page.
--Erin Merdinger