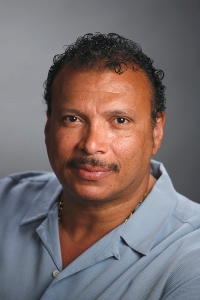 Roland Williams, new outside coordinator for CSUEB's Chemical Dependency Studies Certificate program
CSUEB instructor Roland Williams — a faculty member at the University for nearly 15 years — has been appointed as the new outside coordinator for Cal State East Bay's Chemical Dependency Studies Certificate program.
Working fulltime in the addiction treatment field since 1986, Williams brings a wealth of experience and knowledge to his new role as coordinator. He has experience working in a variety of roles, including an interventionist, author, trainer, counselor, and consultant specializing in addiction related issues. 
Cal State East Bay's Chemical Dependency Studies program is one of only five in the state and one of only two programs in Northern California to receive accreditation from the California Association of Alcoholism and Drug Abuse Counselors (CAADAC), and Williams aims to position Cal State East Bay as the premier program for substance abuse education for students in the Bay Area.
"I am dedicated to doing everything that I can to make this the best educational experience for all of our students," said Williams, who holds a master's degree in psychology with a focus on addiction studies. "As a result of that goal, I believe that we can produce future counselors who will make a positive difference in our state's battle against addiction."
As part of his new position at CSUEB, Williams will act as a liaison with staff, students, administration and other interested parties and will assist with the marketing, class selection and faculty recruitment for the program. In addition, Williams will make sure all coursework aligns with the CAADAC requirements to keep the program's standing accreditation current.
Moving forward, Williams plans to introduce new elective courses to the program curriculum with an emphasis on classes that can be taken individually for professional development and doesn't require enrollment in the certificate program.     
"I'm extremely excited to introduce some new elective classes into our curriculum," said Williams. "These will include timely and critical topics that have an impact on how the industry is responding and treating clients with substance use disorders."
Currently, students enrolled in CSUEB's Chemical Dependency Studies Certificate program can choose between two different certificate track options depending on their individual background and goals. The CAADAC Track best serves those new to the addiction counseling field and want to take advantage of the most comprehensive and respected training program available. The CSUEB Certificate Track is designed for licensed therapist, nurse, social worker, or probation or correctional professional with a practice or caseload of clients who have co-existing alcohol and/or drug problems.
"I think our program here at Cal State East Bay is creating counselors who will be warriors in this battle against addiction," said Williams. "They will be armed with the best education we can give them, and shielded from ignorance and apathy. I am excited about the work we do and I'm totally looking forward to the future."
Williams sat on the oral examination board of CAADAC and is a member of the National Association for Alcoholism and Drug Abuse Counselors (NAADAC) Trainers Academy, providing technical assistance and training nationwide.
He has published three books: "Relapse Prevention Counseling for African Americans" and "Relapse Warning Signs for African Americans", as well as the "Relapse Prevention Workbook for African Americans."
Williams is president and founder of Free Life Enterprises, providing counseling, intervention and consulting services. He is director of Clinical Operations at DARA Thailand and clinical director at Lionrock Recovery, an online intensive outpatient program. He is a co-founder and former clinical director of Alta Mira Recovery Programs, and Bayside Marin, located in Marin County, CA. Williams is also a former director of Behavioral Health Services at Good Samaritan Hospital in San Jose, CA.
--Erin Merdinger