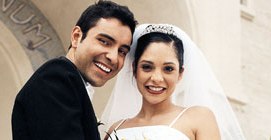 man and woman in wedding
According to Association of Bridal Consultants, the wedding business is a $ 165 Billion industry, with over 2.4 million weddings every year, just in the United States alone. Take part in this fast-growing and lucrative industry by earning your Certificate in Wedding Planning from Cal State East Bay. Fall applications to the Online Wedding Planner Certificate Program are currently being accepted now through Sept. 8.  
The internationally recognized program, taught by program founder and 25-year hospitality industry veteran Joyce Scardina Becker, offers participants an in-depth knowledge of all facets of researching, designing, planning, coordinating and evaluating weddings.
"The Wedding Planner Certificate course was the starting point for my career," said Brooke Baglietto, who completed the program in 2005 and is currently the wedding specialist at The Carneros Inn in Napa Valley. "The course led me to my first internship and my first paid position within the industry." 
Students in the online course will learn through a combination of videos of classroom lectures and storytelling case studies of actual weddings that have been executed, with PowerPoint presentations and accompanying handout materials, said Scardina Becker.
For more information on the Online Wedding Planner Certificate Program, visit the program's website.
--Erin Merdinger