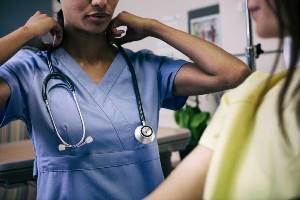 woman wearing scrubs
It's not too late to enroll in Cal State East Bay's EKG Technician Certificate Program! Classes start Nov 3 and run through Jan 7.
The certificate prepares graduates for entry-level EKG technician positions, in addition to preparing students to take the national certification examinations sponsored by the American Society of Phlebotomy Technicians (ASPT) Electrocardiograph Technician Exam.
The course is conveniently offered in the evenings from 6 to 9:30 p.m. Mondays and Wednesdays at the downtown Oakland Center.
Admission to the EKG Technician Certificate Program is available to any interested student who has a high school diploma or GED equivalent.
Visit the EKG Technician Certificate Program website for more information.  
--Erin Merdinger