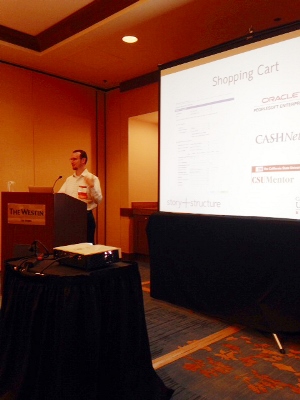 Dan Bellone, marketing director for CSUEB Continuing Education, presents new Continuing Education web experience at UPCEA West Region conference.
Cal State East Bay Continuing Education's newly redesigned website, which launched in late September, is already gaining recognition beyond the CSU system. The revamped site has recently been a featured topic at several conferences through the University Professional & Continuing Education Association (UPCEA)—the leading association for professional, continuing and online education.   
CSUEB Continuing Education partnered with Boston-based design team Story+Structure to update their site and improve overall user satisfaction. The new site revolves around a "student centric" concept and is all about giving the best possible experience to the student. Some of the improvements guests will notice when diving into the new site include access to the latest career data and job forecasts, real student success stories, program outcomes and an overall intuitive design.
"Story+Structure helped us define a clear call to action with a seamless online experience. They helped to bring together the communication process so it all blends together – that's a big home run," said Dan Bellone, marketing director for CSUEB Continuing Education.
Bellone along with Guy Felder, chief strategist for Story+Structure, teamed up to share the success story and findings from the web redesign project with UPCEA. The two have already presented at UPCEA West Region and UPCEA South Region conferences this month and will present at the annual UPCEA Marketing and Enrollment Management Seminar Nov. 5 to 7 in Atlanta, Georgia, which draws leaders from colleges and universities around the world.
Since the new site launched, CSUEB Continuing Education has already received a dramatic increase in program inquiries from prospective students. 
For more information on Continuing Education's website redesign project and to download Story+Structure's case study for Cal State East Bay, which details the redesign process including initial challenges, the design process and overall results, visit Story+Structure's website. 
--Erin Merdinger