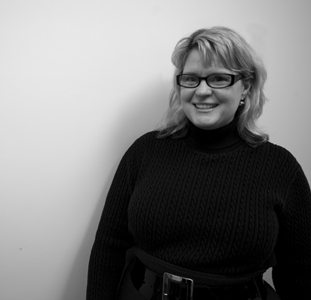 Kimberly Legocki, program director for Cal State East Bay's new Certificate in Social Media Marketing.
Cal State East Bay is launching a new Certificate in Social Media Marketing to begin this winter. The program, which can be completed in as little as six months, is designed to provide students with hands-on training in the practical and strategic components of social media marketing.   
For many, the program comes at an opportune time as the need for professionals with an understanding of social media platforms continues to rise. According to Indeed.com, jobs with the phrase "social media" in their title are growing by nearly 90 percent.
"Companies of all sizes have embraced social media. It's no longer a question of whether you should do it, but rather how best to engage," said Social Media Marketing Certificate Program Director Kimberly Legocki, who is also a lecturer in Cal State East Bay's College of Business and Economics and former social media director for the University. "Internal responsibility for social media now extends beyond marketing and communications.  People working in human resources, product development, customer service and IT are now expected to be fluent in social media."
Led by two senior social media and online marketing practitioners, the program is the only one of its kind in the Bay Area—offering a completely hands-on program with training directly in a technology lab.
The certificate program is comprised of six required courses and two optional workshops. Students will learn through a combination of in-depth case studies, guest speakers and interactive lab sessions, said Legocki.  
Program curriculum ranges from "Writing a Social Media Marketing Strategy" to "Measuring and Tracking Social Media Metrics." At the core of the program's curriculum is an opportunity to research, develop and write a social media strategy plan for a real local business.
"Our program is unique in that students learn in a hands-on environment from instructors who have actually worked as social media professionals," said Legocki. "Social media takes place online and so does our learning. We're not teaching theoretical fluff. You'll be learning information that may be applied immediately to your job."
Classes will be offered at CSUEB's downtown Oakland Center in a 25-person computer lab.
No application is needed to enter the program, and registration is now open for Winter Quarter.
For more information, visit CSUEB's Social Media Marketing Certificate Program website.
--Erin Merdinger