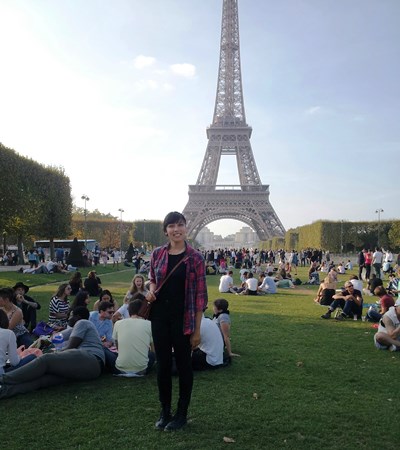 CSUEB student and Gilman Scholarship recipient Ivette Bernal at the Eiffel Tower in Paris, France.
December 10, 2014 12:00am
Cal State East Bay business major Ivette Bernal has been awarded a $5,000 scholarship to study abroad through the prestigious Benjamin A. Gilman International Scholarship program. Bernal, 20, is currently participating in a yearlong study abroad program in Paris, France, that started this fall.
"Both CSUEB and the Gilman Scholarship played a huge role in my ability to study abroad," said Bernal. "CSUEB provided me with the connection to CSU International Programs, the study abroad program that I am involved with, and the Gilman Scholarship gave me the means to finance my venture and introduced me to their experienced study abroad community."
Administered by the Institute of International Education, the Gilman Scholarship program offers grants for U.S. citizen undergraduate students with financial need to study abroad. The program aims to diversify the kinds of students that study abroad and encourages students to choose non-traditional study abroad destinations outside of western Europe, Australia and New Zealand.
Since its inception in 2001, the Gilman Scholarship program has granted more than 17,000 awards to students participating in study abroad programs and internships around the world.
Bernal is the sixth student from Cal State East Bay to receive the prestigious scholarship.
"Cal State East Bay students are good candidates for studying abroad. Our student body has the diversity that programs like the Gilman Scholarship are looking for," said Kelly Moran, director of CSUEB's Center for International Education. 
Through study abroad, Cal State East Bay students can attend schools overseas for one semester or an academic year and gain credit toward their degree. For instance, Bernal is taking courses toward her business major and her French minor while experiencing school abroad.
"Learning French here is very effective because it is all around me, but it also links back to business on an international level," said Bernal.
Approximately 30 undergraduate students from CSUEB participate in study abroad programs each academic year, said Moran.
"There is a lot of personal growth that takes place during study abroad," said Moran. "Students learn how to survive in a new situation, deal with language barriers, become independent and stick to a budget. It's an experience students will never be able to duplicate."
Previously, students have participated in study abroad programs in a variety of countries, including Argentina, China, Costa Rica, Denmark, France, Germany, Ghana, Hong Kong, Hungary, India, Italy, Japan, Malaysia, New Zealand, Poland, South Africa, Sweden, Spain, Taiwan, Thailand and the United Kingdom.
"Study abroad sets students apart from other graduates by providing them with a global experience and preparing them for a global workforce," said Moran.
Bernal also encourages other CSUEB students to pursue study abroad: "If a student is interested, then they should go to the study abroad [information] sessions to see what the process looks like and how attainable it really is. They should also start saving some money as of now and apply to as many scholarships as possible—the Gilman [Scholarship] for sure."
Information sessions are generally held in fall for students interested in learning more about study abroad options and eligibility requirements. For additional information, visit the Center for International Education's study abroad website or contact Kelly Moran at kelly.moran@csueastbay.edu.  
--Erin Merdinger