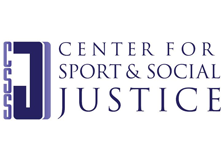 Center for Sport and Social Justice
California State University East Bay's Center for Sport and Social Justice will host "Queering Fields and Courts: LGBTQ Issues in Sport," Jan. 28-29 on CSUEB's Hayward campus. The events are free and open to the public.
Several of the workshops will be led by Dr. Pat Griffin, a nationally recognized activist in the field of LGBTQ issues in sport and professor emerita at the University of Massachusetts, Amherst. Griffin is the author of "Strong Women, Deep Closets: Lesbians and Homophobia in Sport," and co-author of numerous other publications, including "On The Team: Equal Opportunities for Transgender Student-Athletes, the NCAA Guide for the Inclusion of Transgender Athletes." She has been an advocate for LGBT equality in sport for more than 30 years. A former university swimming and diving coach, Griffin regularly provides counsel to the NCAA and college and high school athletics programs as they work toward greater LGBTQ inclusion in sports.
The schedule of events is as follows:
Wednesday, Jan. 28
10-11:30 a.m. (Room AE142) – This workshop will discuss action strategies for student-athlete leaders to maintain an inclusive and respectful team climate for students of all sexual orientations and gender identities
12:30-2 p.m. (Room AE142) – This workshop is directed at current or future coaches and athletic staff to discuss best practices for the inclusion of student-athletes and coaches of all sexual orientations and gender identities on sports teams
6-8 p.m. (University Theater) – Showing of the documentary "Out: The Glenn Burke Story." A Q&A period with the filmmaker, Doug Harris, will follow the film.
Thursday, Jan. 29
10-11 a.m. (Room UU311) – Open discussion with college undergraduates on creating inclusive spaces for LGBTQ students
2-4 p.m. (Room UU311) – Campus/community panel – Leaders and allies in the LGBTQ sports-equality movement and LGBTQ athletes/allies will discuss their perspectives on creating and maintaining inclusive athletic climates for athletes, and staff of all sexual orientations and gender identities.
For more information, call Dr. Rita Liberti, CSUEB professor of kinesiology, at (510) 885-3050 or email rita.liberti@csueastbay.edu.
In addition to the Center for Sport and Social Justice, these events are supported by Cal State East Bay Athletics; CSUEB's Department of Kinesiology; Cal State East Bay's College of Education and Allied Studies; the Office of University Diversity; and CSUEB's departments of Communication and History.