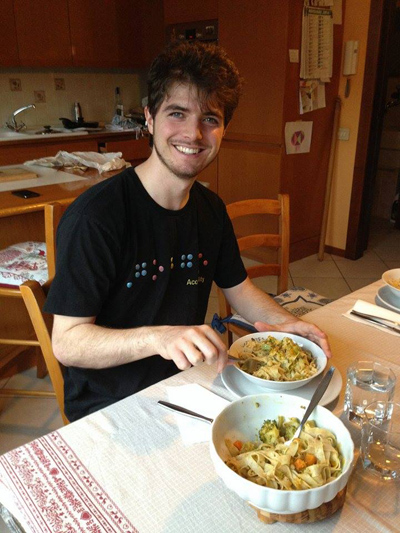 CSUEB student Brandon Keith Biggs enjoys a bowl of pasta after a cooking lesson from his Italian girlfriend's mother while studying abroad in Milan, Italy.
For a music major studying opera, what could be better than immersing oneself in the birthplace of opera itself? Cal State East Bay student Brandon Keith Biggs, blind from birth, is getting to do exactly that. Currently studying abroad in Italy as part of an international exchange program, Biggs is the first blind CSUEB student to participate in a study abroad program.
"My main goal in coming to Italy is to learn the language," said Biggs. "Because most operas are in Italian, it is very important that I am able to say all the words correctly and know the meaning of everything I am saying."
Biggs, 22, left for Italy in September and will continue his studies at the Catholic University of Milan through June.
In addition to his Italian language course, Biggs is taking a theater class, a course in entrepreneurial finance and — the course which he describes as "the most difficult" — an Italian cooking class.
Biggs credits Kelly Moran, director of CSUEB's Center for International Education, along with CSUEB's Accessibility Services, which provides academic accommodations to qualified individuals with disabilities for the positive roles they played in his efforts going abroad.
"I am forever thankful to Accessibility Services for allowing me to give my textbooks to them for scanning," said Biggs. "They were mostly in Italian, and language books are the most difficult books to scan as they are very hard to proofread and have a lot of pictures."
When Biggs is not practicing his Italian inside the classroom, the Washington native is busy exploring the country and socializing with the locals.
"I met some fantastic people here in Italy my first few days and started hanging out with them. They introduced me to their friends, and so in the first week I had met more Italians than most of the other [international] students," said Biggs.
And if following his dreams in Italy is not enough, Biggs was also recently featured in one of Italy's oldest and most influential newspapers—Corriere della Sera.
"Now I'm kind of a minor celebrity here," said Biggs. "All my friends came up and told me they read my article in the newspaper!"
Biggs took part in the International Student Exchange Program (ISEP), an organization with a network of over 300 colleges and universities in 50 countries. Through study abroad, Cal State East Bay students can attend schools overseas for one semester, or an academic year and gain credit toward their degree. Most students will also pay the same cost of tuition, room and board while studying abroad through ISEP as they would at their home university.
"If you look at the cost of going to Italy without doing an exchange program, it is somewhere around $30,000 a term. I am paying around $10,000 for everything — flight, food, housing and everything," explained Biggs. "I can't say 'DO IT' enough. You can't get this kind of deal anywhere else in America; it is probably the best part of a California State University."
Approximately 30 undergraduate students from CSUEB participate in study abroad programs each academic year, said Moran.
Previously, students have participated in study abroad programs in a variety of countries, including Argentina, China, Costa Rica, Denmark, France, Germany, Ghana, Hong Kong, Hungary, India, Italy, Japan, Malaysia, New Zealand, Poland, South Africa, Sweden, Spain, Taiwan, Thailand, and the United Kingdom.
"Study abroad sets students apart from other graduates by providing them with a global experience and preparing them for a global workforce," said Moran.
Information sessions are generally held in fall for students interested in learning more about study abroad options and eligibility requirements. For additional information, visit the Center for International Education's study abroad website or contact Kelly Moran at kelly.moran@csueastbay.edu.
--Erin Merdinger