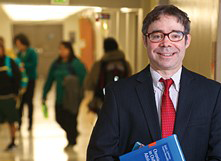 Stephen J. Morewitz, Ph.D.
February 16, 2015 12:00am
Stephen J. Morewitz, Ph.D., an award-winning lecturer in Cal State East Bay's Department of Nursing and Health Sciences, will present his new research on teen runaways at the annual meeting of the American Academy of Criminal Justice Sciences in Orlando, Fla, on March 6.
Morewitz, the author of more than 100 publications, will present findings on differences between white and African American teen runaways. His research will be published in his forthcoming book, "Teen Runaways: New Research and Clinical Perspectives" (New York: Springer, 2015/16).
His previous book, "Handbook of Forensic Sociology and Psychology," earned Morewitz a San Jose State University Annual Author Award for co-editing with Mark L. Goldstein. Additional works by Morewitz include the award-winning books "Stalking and Violence" (New York: Kluwer/Plenum, 2003), and "Domestic Violence and Maternal and Child Health" (New York: Springer, 2004).
He is also the author of "Chronic Disorders in Children and Adolescents" (New York: Springer, 2011); "Chronic Diseases and Health Care" (New York, Springer, 2006) and, with Mark L. Goldstein, "Aging and Chronic Disorders" (New York, Springer 2008).
Prior to his teaching appointment at Cal State East Bay, Morewitz was professor and dean of research at the California School of Podiatric Medicine. He has also served on the faculty of Michael Reese Hospital and Medical Center in Chicago; the University of Illinois at Chicago's College of Medicine, Department of Family Practice; and the School of Public Health, DePaul University; and Argonne National Laboratory.