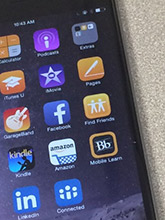 According to a recent report by eLearning Industry, about 46 percent of college students are taking at least one course online, and by 2019, roughly half of all college classes will be eLearning-based.
Gone are the days when students would get into trouble for using a mobile device in the classroom. Today, it is not only common to see students using their tablets and smart phones in the classroom and to access online course materials, it's even encouraged.
According to a recent Ambient Insight Premium Report "The 2012-2017 Worldwide Mobile Learning Market," the revenue for mobile learning products in North America reached $1.4 billion in 2012 and is projected to grow to $2.1 billion by 2017. The most significant trend driving the uptake of mobile learning in academic settings is the adoption of tablets in schools. Governments around the world are also launching national programs to provide tablets to schools, many with large-scale efforts.
As mobile learning continues to increase, the need to stay up to date on the latest technology and educational formats becomes exceedingly important. That's why programs such as Cal State East Bay's online MS in Education, Option in Online Teaching and Learning (MS-OTL) — a program that teaches educators and trainers how to transform their typical course or training materials into an engaging and interactive online experience — can be an essential resource for educators and trainers looking to present their materials in new and innovative ways.
"As technology changes, we are always updating the teaching and technology in our courses," said Anne Guptill, interim director of both CSUEB's certificate and master's in online teaching and learning programs.
Courses such as "Designing and Implementing User Interfaces for Online Instruction" and "Providing Interactivity in the Online Environment" are just a couple of the course options students have in the master's program. These technical classes incorporate the latest technology and trends, including mobile learning, and using social media for educational purposes and gamification — the concept of adapting learning materials into a game format for educational purposes.
Since Cal State East Bay introduced the online MS-OTL program in 1999, approximately 500 students have graduated from the program to become successful online teachers and trainers. Accredited by the Western Association of Schools and Colleges, the MS-OTL was the first fully online program at Cal State East Bay, and remains one of the only online teaching and learning training programs offered in the world.
CSUEB's MS-OTL is offered entirely online, attracting students from all over the world including Japan, England, South Africa, Canada, Vietnam, Germany, Saudi Arabia, South Korea, United Arab Emirates, Lebanon, and across the United States. Students also represent a variety of educational and teaching backgrounds such as K-12 teachers, university and college faculty, corporate and military trainers, educational administrators, curriculum designers, and technical support staff.
And for those interested in learning more about teaching and technology, but who aren't quite ready to commit to a master's level program, CSUEB offers a four-course Certificate in Online Teaching and Learning.
For more information on CSUEB's MS in Online Teaching and Learning program.
For more information on CSUEB's Certificate in Online Teaching and Learning program.


—Erin Merdinger