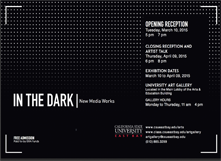 In The Dark: New Media Works
The University Art Gallery is proud to present "In The Dark: New Media Works," its first exhibition showcasing a collection of electronic media, including 2D/3D digital, video, audio (sound art), animation, games, websites, interactive, motion graphics, and more. The exhibition is open to all CSU East Bay undergraduate and graduate students, and alumni. Phillip Hofstetter, Ian Pollock, and Philip Ringler will jury the event.
The opening reception for the exhibition will be on Tuesday, March 10 from 5-7 p.m. The show runs through Thursday, April 9 and will close with a second reception from 6-8 p.m., during which participating artists will deliver a presentation regarding their work.
For more information visit: Art Gallery