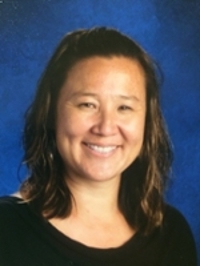 Gwen Gallagher, M.S. in Education, Option in Online Teaching and Learning graduate student.
For American Sign Language (ASL) teacher Gwen Gallagher, enrolling in the M.S. in Education, Option in Online Teaching and Learning Program (MS-OTL) at Cal State East Bay is an exciting opportunity to not only learn more about the field of online education, but to make her teaching materials more accessible to her students. Gallagher was born deaf, and after teaching ASL at Bay Area high schools and colleges for nearly 20 years, she is ready to expand her reach to an online audience.
"Online education is opening doors for so many people," said Gallagher. "People are able to gain access to educational opportunities regardless of their locations, physical presences and schedules. I want to offer the ability for ASL learners to reach their goals without traditional in-class constraints."
CSUEB's MS-OTL is offered entirely online, attracting students from all over the world and from a variety of educational and teaching backgrounds, including K-12 teachers, university and college faculty, corporate and military trainers, educational administrators, curriculum designers, and technical support staff. Throughout the program, students learn best practices in the online teaching field and how to transform their individual course or training materials into an engaging and interactive online experience.
"Online education is growing and I want to study the developments in online education; even for class- based education, online technology is becoming more and more relevant," said Gallagher.
Furthermore, Gallagher believes online learning can help level the playing field for all students.
"During online discussions, students are on equal footing even if they cannot hear. It is easy for students to communicate and collaborate in a 'mind-to-mind" manner without being distracted by physical disabilities or communication difficulties," said Gallagher.
Gallagher admits that even she was afraid of being treated differently when she first enrolled in the master's program, but her experience has been quite the opposite.
"My experience has been great! I am so surprised at myself," said Gallagher, who plans to finish the program in December. "(The) teachers and classmates have been very supportive and have given great feedback."
The MS-OTL program, which can be completed in as few as 15 months, consists of 10 courses ranging from "Designing Curriculum for Online Instruction" to "History and Culture of Online Learning Communities." All of these concepts lead up to the final project in which students have to design their own online course.
All MS-OTL courses are accessible with captioned videos, and students and instructors engage in conversation through an online discussion board.

—Erin Merdinger