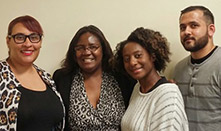 CSUEB's first group of students to complete the Social Media Marketing Certificate program. (from left to right): Monica Holmes, Kathy Andrews, Terry Cato and Nitesh Dutt.
After four years of working in television for Comcast SportsNet Bay Area, Cal State East Bay alumnus Nitesh Dutt was looking for a career change — a program centered on the fast-growing field of social media marketing couldn't have come at a better time.
Dutt, 27, is part of the approximately 12 first students to enroll in CSUEB's new Social Media Marketing Certificate Program, and one of the first four students who received their certificates in March. Launched in January, the program, is designed to provide students with hands-on training in the practical and strategic components of social media marketing.
"If you have a passion for social media and marketing then this is the perfect program," said Dutt, who graduated CSUEB with a bachelor's degree in Communication in 2010. "Go in with an open mind and you'll learn a lot, plus make great connections."
Taught by four social media and online marketing practitioners, the program is the only one of its kind in the Bay Area — it is completely hands-on with training directly in a technology lab.
The certificate program is comprised of six required courses and two optional workshops. Throughout the program, students learn through a combination of in-depth case studies, guest speakers and interactive lab sessions, explained Kimberly Legocki, the program's director.
Program curriculum ranges from "Writing a Social Media Marketing Strategy" to "Measuring and Tracking Social Media Metrics." At the core of the program's curriculum is an opportunity to develop a social media strategy plan for a real local business.
For the first group of certificate students, the program finished with consultant work at a West Oakland-based nonprofit agency — Saint Vincent's Day Home. Established in 1911, the facility is the oldest and largest child development center in Alameda County and provides impoverished children age two to six with early education and care and development services, as well as parent education and social services referrals for low-income families.
"The class researched, wrote and presented a social media strategy to support the 104-year-old organization's goals of using social media to attract a millennial audience," said Legocki, who is also a lecturer in CSUEB's College of Business and Economics and the former social media director for the university. "The final project provides students with a unique and rewarding opportunity to give back to the community while gaining invaluable job skills."
"My highlight was the practicum," Dutt said. "I loved helping a non-profit that helps children and families."
Dutt, who plans to start his own consulting business, recently connected with his first client through the program.
"It was great to know that [Legocki] thought of me when a person contacted her looking for a social media consultant," Dutt added. "It just goes to show that the people teaching these courses are in it to see their students succeed during the program and out of it as well."
Dutt, however, is not the only student using the program to start a new job venture. Author and relationship blogger Terry Cato also saw the Social Media Marketing Program as an opportunity for a fresh start. After eight years as a stay-at-home parent and business owner, Cato, 43, struggled to reenter the workforce and decided to enroll in the certificate program to expand her job possibilities. She plans to use her new credential to find a part-time or telecommuting position in social media marketing, while maintaining her blog, Relationships-411, and using social media to build her online presence as a writer.
Throughout the program, Cato recalled her excitement as she built upon her existing marketing knowledge and learned best practices: "I had a great experience and would definitely recommend the program."
To learn more about CSUEB's Certificate in Social Media Marketing, visit the program's website at https://www.ce.csueastbay.edu/ce/programs/social-media-marketing/.
--Erin Merdinger