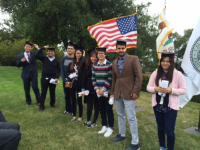 CSUEB's American Language Program (ALP) hosts annual GradFest, honoring Class of 2015 graduates who are former ALP students.
Cal State East Bay's American Language Program (ALP), which helps students from countries outside the United States improve their English and get ready to attend American college classes, hosted its sixth annual GradFest on May 20 at the Hayward Hills campus. The event, honoring former ALP students who have matriculated into the university and will graduate from CSUEB in the 2014-15 academic year, celebrated 146 former ALP students — 120 with bachelor's degrees and 26 with master's degrees.
Cal State East Bay's ALP offers a range of high-quality programs for students from all over the world, including diploma, certificate and graduate preparation programs. However, the majority of ALP students are part of the Intensive English Program, which gives participants conditional admission to the university if they raise their English proficiency to meet program standards.
For many international graduates, ALP is their first experience with American university life, and GradFest provides an opportunity for students to reflect on how far they have come since they first arrived from their home countries.
"ALP taught me how to communicate with professors and helped me make lots of friends from all over the world," said former ALP student Taishi Yamagata, who moved to the U.S. from Japan and will graduate with a bachelor's degree in international studies from CSUEB. "If I didn't have ALP, I wouldn't have the life I have now in the United States."
Guests of the ALP GradFest heard speeches from graduating students, such as Yamagata, as well as university officials, including ALP Director Thomas Tyner and Associate Vice President for University Extension Brian Cook. 
As part of the GradFest festivities, the winner of the 10th annual Esther Briano Essay Award was also announced. The award was established to assist outstanding students in ALP in memory of Esther Briano, a longtime CSUEB employee who passed away in 2005.
Current ALP student Yuya Ota was the recipient of this year's award, which includes a $200 gift, for his essay on how ALP changed his perspective on the world.
"The award encourages me to keep studying and improving my motivation for life," said Ota, who plans to pursue a master's in business or economics at CSUEB in the near future.
Since its inception in 1978, ALP has welcomed students from all over the world, and ALP alumni in the 2014-15 graduating class are no exception. ALP graduates represented a variety of countries, including Sweden, Kuwait, Saudi Arabia, China, South Korea, Japan and Thailand. 
For more information on CSUEB's ALP.
—Erin Merdinger