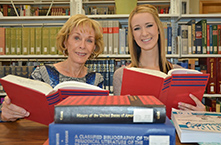 Alyce Shikano, left, and granddaughter Alyssa Larson are both students at Cal State East Bay's Concord campus.
Like most grandmothers, Alyce Shikano is proud of her grandchildren. However, she's particularly close to one of them — 21-year-old Alyssa Larson. That's because grandmother and granddaughter are students at Cal State East Bay's Concord Campus.
"We are very close and can talk about anything," Larson said. "She's my friend and I love spending time with her."
Larson is a freshman in the nursing program, and her grandmother takes Osher Lifelong Learning classes through the Scholar-OLLI Program for mature learners.
The two try to meet up between classes, which isn't always easy with their busy schedules.
"The last time we met up, it was a pure accident. I stayed too long after a class and Alyssa was coming upstairs, which she doesn't usually do, and 'oh my God, I ran into my granddaughter!'" Shikano said.
"When I ran into her on campus that time, we were so surprised and happy to see each other," Larson added. "She introduced me to some of her friends and OLLI classmates and we even took a selfie together."
The Pioneer pride doesn't stop there — it runs deep in this family.  Larson's mother and grandfather (Shikano's husband) are also CSUEB Alumni.
"I'm sure my grandchildren are probably surprised that a retired lady wants to spend all (her) time taking classes," Shikano said. "I like to emphasize to all of them that learning never stops, regardless of your age!"
Shikano is especially enjoying learning about computers and technology.
"I taught my grandma how to text and now she is way better at it than me," Larson said. "Now she's taking Apple classes and she knows even more about the iPhone than I do."
Texting might come in handy since Larson won't be on campus this fall. She is transferring to Los Medanos Nursing School to complete her training before returning for her bachelor's degree in nursing from CSUEB.
"I'll miss not having the opportunity to bump into my grandma at school," she said.
Shikano isn't worried though. She says she'll be here when Larson returns to finish her degree.
More information about the Nursing and Pre-Nursing programs at the Concord Campus can be found at: Nursing and Pre-Nursing at Cal State East Bay, Concord Campus.
Information about classes through the Osher Lifelong Learning Scholar OLLI Program can be found at: Osher Lifelong Learning at Cal State East Bay, Concord Campus.
­– Liam Gleeson