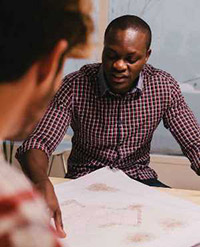 Cal State East Bay's Certificate in Construction Management program, starting this fall, prepares participants for day-to-day challenges in the field, from managing subcontractors and cash flow to controlling costs and minimizing safety risks.
After a three-year hiatus, Cal State East Bay will re-launch its Certificate in Construction Management starting this fall. The program, which first launched approximately 27 years ago, has been on hiatus from 2011 to 2014, but will return to meet the demands of the growing construction industry.
According to the U.S. Department of Labor, employment of construction managers is projected to grow 16 percent from 2012 to 2022, faster than the average for all occupations combined.
The program, which can be completed in as little as 12 months, gives construction industry professionals the skills and knowledge necessary to advance to a management position or create their own construction business.
Courses are offered in the evenings at the downtown Oakland Center, making them accessible for active professionals. Participants will engage in a curriculum incorporating a variety of learning styles, including lectures, class discussion, group work, reading and writing assignments, guest speaker lectures, and some Saturday morning field trips to local construction sites.
Admission to the program is accepted on an ongoing basis, and three years of experience in the construction industry is recommended. Individual courses, however, can be taken without formal admission to the certificate program.
For more information about CSUEB's Certificate in Construction Management, visit https://www.ce.csueastbay.edu/ce/programs/construction-management/.
– Erin Merdinger