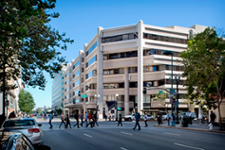 CSUEB's Oakland Center will be expanding its facility and undergoing renovations through summer and is set to reopen in time for fall quarter.
Cal State East Bay's Oakland Center is currently undergoing an extensive expansion project to accommodate its growing number of visitors and offerings. In addition to the expansion, the original structure is being renovated to create an overall cohesive and modern feel between the old and new spaces. The Oakland Center will be closed and under construction for the remainder of summer and is set to reopen in fall 2015.
Plans for the expansion include taking over three additional spaces along the 11th Street side of the building, allowing for student-centric facilities, including a lounge and study areas. In addition to the new spaces, all of the existing classrooms will get fresh carpet, paint and furniture.
"CSUEB is proud to serve the region with high-quality academic programs in the city of Oakland. CSUEB has been committed to downtown Oakland for more than 15 years, and due to higher demands and our proven success, we are expanding our services and offerings," said Kate White, director of CSUEB's Oakland Center and Continuing Education.
"With the expansion we will be able to offer our degree and certificate students more of a 'campus' feel, with access to a student lounge and study areas designed to maximize student collaboration and learning. The updated facility will have eight classrooms, including a computer lab, as well as faculty offices and space for advising. The whole facility will be colorful and modern, and will fit well in the downtown Oakland environment," said White.
CSUEB's Oakland Center serves the community as a conference center and corporate training facility, and is home to many continuing education classes.
This is the first time the Oakland Center has been renovated since its original opening in 2001.
—Erin Merdinger