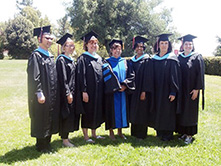 CSUEB's MS in Online Teaching and Learning graduates come together for the program's 15th annual graduation celebration.
When Ken Seto attended Cal State East Bay's Online Master of Science in Education, option in Online Teaching and Learning (MS-OTL) program's 15th annual graduation celebration on the Hayward Campus in June, it wasn't just about the usual pomp and circumstance. The celebration allowed Seto to finally meet, face-to-face, the classmates and instructors he had formed bonds with throughout the online program.
"Everyone has this preconception of online education that you're all by yourself and isolated, and it's not like that whatsoever," said Seto, who was one of six MS-OTL graduates participating in this year's graduation festivities. "In fact, the bonds and interaction that we've had together in this program (are) greater than any kind of experience I had when going through my bachelor's. I felt so incredibly supported by the instructors and the fellow students. It was really an amazing experience." 
The first fully online program at Cal State East Bay, the MS-OTL program has been empowering educators, instructors, trainers and support staff to effectively design and implement online courses since 1999. Approximately 25 new degree candidates will file for graduation this year, bringing the course totals to nearly 600 graduates since the program's inception. The program's graduates represent a variety of nations and regions, including Canada, Michigan, Oregon, Texas and California.
This year's MS-OTL celebration, which included speeches from the graduates, was highlighted in a short video. View the graduation celebration video here.