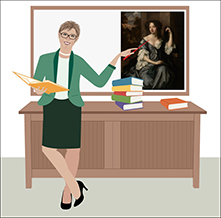 Ingrid Steiner, an alumna of CSUEB's MS in Online Teaching and Learning program, incorporates avatar images of herself into her online courses.
For Cal State East Bay alumna Ingrid Steiner, 2016 is shaping up to be an exciting year. Steiner, who graduated from CSUEB's Online M.S. in Education, Option in Online Teaching and Learning (MS-OTL) program in 2015, will present her educational research at four conferences this year, including Online Learning Consortium (OLC) Innovate 2016 and EdMedia 2016: World Conference on Educational Media and Technology.
Steiner will present on how to integrate critical thinking skills into an online art history course at OLC Innovate 2016 in April. Then, in June, she will present on how to engage general education humanities students with the ARCS (Attention, Relevance, Confidence and Satisfaction) method for an international audience at EdMedia 2016, which is expected to include 1,500 participants from 70 countries.
"I really get a lot out of the conferences since they give me an opportunity to present and refine my ideas to a domestic and international audience, publish, learn what works for others, and network," said Steiner, an art history teacher who currently resides in Los Angeles. "The MS-OTL program was instrumental in preparing me for these opportunities. In fact, some of my research and presentation topics arose out of ideas I addressed in class papers."
CSUEB's MS-OTL is offered entirely online, attracting students from all over the world and from a variety of educational and teaching backgrounds, including K-12 teachers, university and college faculty, corporate and military trainers, educational administrators, curriculum designers and technical support staff. Throughout the program, students learn best practices in the online teaching field and how to transform their individual course or training materials into an engaging and interactive online experience.
 "Constantly keep asking, 'How can I use the techniques and ideas in my own classes and future?'" Steiner recommends to students taking the online courses. "I learned a lot from my classmates, even though none of them practiced in the humanities."
The MS-OTL program, which can be completed in as few as 15 months, consists of 10 courses ranging from "Designing Curriculum for Online Instruction" to "History and Culture of Online Learning Communities." All of these concepts lead up to the final project in which students design their own online course. 
 "I really enjoyed the capstone course since I was able to not only create a complete course but use various educational theories and methods to support my curriculum design," Steiner explained. "It also gave me the opportunity to concentrate on humanities learning theories and methodologies, which is a focus of my research and practice." 
Steiner previously presented on best practices for creating online student peer-review groups at the Instructional Technology Council's annual eLearning Conference in February and at the 27th annual conference of the Society for Information Technology and Teacher Education in March. Steiner will also speak at two conferences centered on the humanities discipline this year in addition to the educational conferences.
And presenting her research at various conferences for both national and international audiences are not the only notable events on Steiner's calendar this year. She will also complete a fellowship she received from the National Sporting Library & Museum in Virginia this summer where she plans to work on her research topic – which focuses on colonial American horse racing – as well as publish her research and create online learning materials for a general audience.