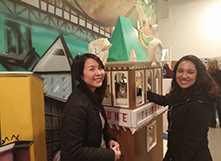 Melinda Yu and Teresa Ramirez interview their Cat Town clients as part of the final practicum for the CSUEB Social Media Marketing Certificate program.
When Ann Dunn, executive director and founder of Cat Town in Oakland, first established her nonprofit in 2011, it served as a means to foster Oakland's most vulnerable shelter cats in people's homes, away from a shelter cage, until they could find permanent homes. Fast forward five years and the organization has expanded its reach to include a network of approximately 50 foster homes in and around Oakland. It now operates as a thriving cat adoption center that has helped reduce the euthanasia rate for cats at the Oakland shelter from 42 percent in 2011 to 7 percent today.
However, Dunn was still in need of doing more to bring awareness to her cause. In today's digital age, optimizing Cat Town's website and overall social media presence were critical.
That's where a group of Cal State East Bay's Social Media Marketing Certificate students came in. As part of their final practicum, a group of 12 students acted as consultants to help evaluate and develop a social media strategy for the local nonprofit.  
"I loved the practicum because it gave us the hands-on learning that was necessary after all the months of learning about the process," said Nicole Radlow, one of the 12 social media marketing students who participated in the final practicum and completed the certificate program in March. "To listen to the client's needs and come up with a proposal that can help evolve their business was really inspirational and fun."
Not only does the practicum serve as a valuable real-world experience that participants can add to their repertoire of work, but the project proved to have an equally beneficial impact on the client. 
"It was really helpful to have an outside perspective give feedback on our overall messaging," Dunn said.
For instance, before the social media students got involved, Cat Town had two Facebook pages and two websites — one for the organization and one for the adoption center — which could be confusing to an outside audience, Dunn explained.
 "[The students] gave us a lot of concrete ideas on what to do and how to make our marketing more organized," she said. "I was really impressed with how engaged the students were and how serious everyone took the project. They really tried to understand our issues."
Taught by social media and online marketing practitioners, CSUEB's Social Media Marketing Certificate program is the only one of its kind in the Bay Area — it is completely hands-on, with training directly in a technology lab. Program curriculum ranges from "Writing a Social Media Marketing Strategy" to "Measuring and Tracking Social Media Metrics." At the core of the program's curriculum is an opportunity to develop a social media strategy plan for a real local business.
"Learning about social media marketing in the classroom teaches practical skills, and our final program practicum solidifies that knowledge," said Kimberly Legocki, program director for Cal State East Bay's Certificate in Social Media Marketing. "[Students] examine all aspects of the business, including conducting brand audits, comparing the organization against comparable Bay Area nonprofits and defining the target audience."