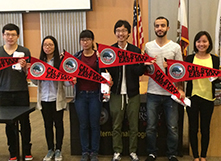 CSUEB's American Language Program (ALP) hosts annual GradFest, honoring Class of 2016 graduates who are former ALP students.
Cal State East Bay's American Language Program hosted its seventh annual GradFest on May 25 at the Hayward campus. The event, honoring former ALP students who have matriculated into the university and will graduate from CSUEB in the 2015-16 academic year, provides an opportunity for students to reflect on how far they have come since they first arrived to Cal State East Bay from their home countries.
Former ALP student Anh Tran recalls the challenges she surmounted while pursuing her MBA in a foreign country and juggling school, work and family life. Reflecting on her first couple of months in the U.S. after arriving from her home country of Vietnam, Tran explains she needed to improve her Graduate Management Admissions Test score before applying to CSUEB's MBA program. All it took was one quarter in ALP's Pre-MBA program and she was ready to integrate into regular university life.   
"ALP helped me improve my English and GMAT score," said Tran, who will graduate in June with a MBA, option in operations and supply chain management. "The ALP staff also helped me with the paperwork for applying to the MBA program."
Cal State East Bay's ALP offers a range of high-quality programs for students from all over the world, including diploma, certificate and graduate preparation programs. However, the majority of ALP students are part of the Intensive English Program, which gives participants conditional admission to the university if they raise their English proficiency to meet program standards.
Tran is one of approximately 90 former ALP students earning either a bachelor's degree or master's degree from CSUEB this year.  
Guests of the ALP GradFest heard speeches from graduating students, including Tran, university officials, and ALP Director Thomas Tyner and Associate Vice President for University Extension Brian Cook. 
Graduates at the event represented a variety of areas of study, including health sciences, English with an option in teaching English to speakers of other languages, computer science, music, industrial engineering, hospitality and tourism, and business administration.
Now, with commencement less than two weeks away, Tran is able to impart valuable advice to current ALP students, such as taking advantage of ALP's extracurricular resources. "Get involved in outside activities like [ALP's] Fun Trips and Special Hour so you can improve your communication skills and make friends," she said. "Also go to the learning center for self-learning."
As part of the GradFest festivities, the winner of the 11th annual Esther Briano Essay Award was also announced. The award was established to assist outstanding students in ALP in memory of Esther Briano, a longtime CSUEB employee who died in 2005. Participants wrote in response to this year's essay prompt: "How has your experience at ALP and CSUEB influenced your view of the world and, as a result, what will you do differently when you return to your country?"
Essay winners included current ALP students Huan Chen who placed first; Donggyu Kim who received second place; and Alkane Muto and Alzahraa Alhajwal who tied for third.
For more information on CSUEB's ALP, visit the program website.