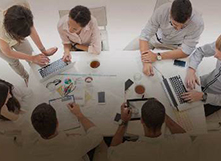 7 people having a meeting from the top view
Cal State East Bay is launching a new course, Change Management and Business Problem Solving: A Simple Integration of Process and Practice, to begin this fall at the university's Oakland Center.
Taught by two industry professionals, the course is comprised of two, five-hour sessions with a 30-minute homework assignment in between.
Throughout the course students will learn from a combination of lectures and hands-on workshops, and draw upon real-world examples from dynamic Bay Area industries such as technology, healthcare, communications, trade, and transport, in addition to education and government.
At the conclusion of the course, students will have gained a solid overview of the change process, tools for identifying roles and processes in change projects, an understanding of the nature of business decisions and a powerful decision-making method, and the ability to apply models and frameworks to challenges in their current organization. 
There are no formal admission requirements for the Change Management and Business Problem-Solving course. Fall enrollment is open through Oct. 4.
For more information or to enroll, visit the Change Management and Business Problem Solving course website.