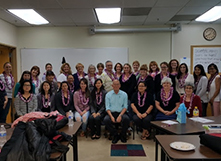 group of people in a class room
September 1, 2016 10:00am
A workshop to help teachers support students with dyslexia was held at the Cal State East Bay Concord campus last month.
Cal State East Bay, Decoding Dyslexia CA and the Northern California Branch of the International Dyslexia Association sponsored 32 participants, including many CSUEB alumni, at a four-day Yoshimoto Orton-Gillingham workshop.
"The departments of Teacher Education and Educational Psychology at Cal State East Bay are proud to be the first university in California to offer the Yoshimoto Orton-Gillingham training," CSUEB lecturer Kathy Futterman said. "This training is accredited by the International Dyslexia Association and will begin to prepare teachers to become Certified Structured Literacy Teachers with the Center for Effective Reading Instruction." 
Ron Yoshimoto, a fellow of the Academy of Orton-Gillingham Practitioners and Educators led the workshop instruction. Yoshimoto is the co-director of Orton Gillingham International, a training and consulting organization specializing in training classroom teachers in a multi-sensory approach to dyslexia education. It incorporates the three learning pathways — auditory, kinesthetic and visual — to teach students the connections between sounds and letters.
"We are thrilled to have the opportunity to work with Cal State East Bay, NCBIDA and public school teachers in our community in raising awareness about evidence-based teaching practices for students with dyslexia," said Tobie Meyer, the Decoding Dyslexia CA State Director. "Ron Yoshimoto is a highly respected expert in this field and we were excited have him lead this training."
According to Decoding Dyslexia CA, dyslexia is the single largest learning disability. It is estimated that up to 20 percent of the overall population displays some signs or symptoms of dyslexia, a language-based learning disability.