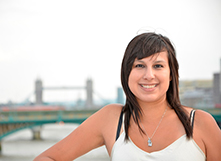 Cal State East Bay communication major Melissa J. Medina received the Benjamin A. Gilman International Scholarship to study in London for a five-week summer program. (by William Lawson, Assistant Professor, Department of Communication)
September 27, 2016 12:00am
Gaining a different outlook on life — that's how Cal State East Bay communication major and Benjamin A. Gilman International Scholarship recipient Melissa J. Medina described her takeaway from a recent five-week stay in London. Medina was one of 25 participants in CSUEB's Summer London Program, during which students studied the history and practice of documentary filmmaking in the United Kingdom while exploring London's rich multicultural environment.
"I already feel different now," explained Medina, a first-generation student and single mother of two who credits the Gilman Scholarship program for helping fund her study abroad experience. "I want to travel the world and meet new people. Before, because I am a single mother, I did not think that it was possible and now I know I can. I want to teach my girls that with hard work and dedication, anything is possible."
Medina is one of five CSUEB students who received the prestigious Benjamin A. Gilman International Scholarship in 2016 — two students for summer and three for fall study abroad programs — marking the largest number of Gilman Scholarship recipients from CSUEB in recent history, said Kelly Moran, director of CSUEB's Center for International Education. 
Administered by the Institute of International Education, the Gilman Scholarship program offers grants for U.S. citizen undergraduate students with financial need to study abroad. The program aims to diversify the kinds of students that study abroad by supporting students who have been traditionally underrepresented in education abroad, including students with high financial need, community college students, students in underrepresented fields such as the sciences and engineering, students with diverse ethnic backgrounds, and students with disabilities. 
"CSUEB is so diverse and our students are the perfect candidates for this program," Moran said.
As part of the Summer London Program's curriculum, Medina participated in the creation of several short films while studying abroad. These projects ranged from 30-second and 90-second videos about studying abroad to her final project — a five-minute video on the city's transportation system. Medina is currently working on a documentary centered on how the Gilman Scholarship has supported her educational and personal goals. 
Connie Fok, who was born in Hong Kong but moved to America when she was 6 years old, will soon be leaving to study abroad in Hong Kong as one of the fall semester awardees of the Gilman Scholarship.
"I hope to gain new friends and cultural knowledge while abroad," said Fok, a senior at CSUEB majoring in kinesiology with an option in therapeutic studies. "I have lived in California for almost my whole life, and I hardly have traveled outside of America except Hong Kong. I want to be able to understand the different cultures and languages of China."
Many scholarship recipients, such as Fok and Medina, have had to overcome many obstacles to get to where they are today. For instance, Fok recalls the challenges of being an English-language learner as a young child and how the persistence and dedication required to learn a second language helped shape her current pursuits.
"If I am able to overcome the challenge of learning a new language, then I am ready to travel and learn about the new environment and cultures of Hong Kong," Fok said. 
Both Fok and Medina encourage others to apply for the Gilman Scholarship in hopes that their college peers, too, will see the pay off.
"I was worried at first about the costs of going abroad, but the Gilman Scholarship has given me the financial support I needed. Now, I don't have to worry as much about the costs as I did before," Fok said. "Cal State East Bay has helped me prepare for this study abroad [experience] because it has given me the confidence to face my fears of public speaking and academic challenges."
To learn more about Cal State East Bay's study abroad opportunities, visit the Center for International Education's study abroad website.