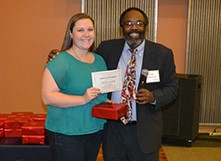 Sarah Jupina, with Paralegal Studies Director Dwight Dickerson, was one of 35 students honored during the Paralegal Studies Certificate program graduation ceremony in December.
More than 200 attendees gathered on Dec. 9 in the Hayward campus' University Union for this year's Paralegal Studies Certificate Program graduation ceremony. Friends and family cheered as 35 graduates walked the stage to receive their certificates. 
"I've been doing this for over 10 years and this was one of our best events," said Dwight Dickerson, Paralegal Studies Certificate Program Director and event host. "We were excited to have everybody [here]."
Attendees were welcomed to the event with drinks and a buffet-style dinner. Before the award ceremony, instructor Jimmy Ly addressed the audience. The evening's keynote speaker was instructor and Alameda County Superior Court Judge Jacob Blea III, who spoke about his own career path and encouraged all graduates to plan their future in order to prepare for any obstacles along the way. 
Aspiring intellectual property paralegal and recent graduate of the program, Sarah Jupina, was one of the certificate recipients.
"I liked that the graduation ceremony was low-key and simple," Jupina said. "It was nice to sit down and eat dinner with my family and classmates and reflect on my time in the program. I liked that everyone got individually recognized."
Since 1980, Cal State East Bay's Paralegal Studies Certificate Program has qualified aspiring paralegals for positions at top law offices in the San Francisco Bay Area. Throughout the program, students receive hands-on instruction and practical assignments from legal experts and practicing attorneys. They investigate and prepare cases for trial, draft legal documents, interview clients and conduct legal research.
To learn more about Cal State East Bay's Paralegal Certificate Program, visit the program's website.