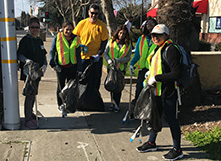 On Jan. 16, 24 Cal State East Bay student volunteers rolled up their sleeves for the Martin Luther King Jr. Day of Service Project. The community service project was co-sponsored by the university's Center for Community Engagement in partnership with the Downtown Streets Team, a Bay Area nonprofit that works to end homelessness.   
Students came from a variety of student clubs and organizations, including Pioneers for Change, Cal State East Bay Transfer Ambassadors, American Language Program, Tau Sigma Honor Society and Lambda Theta Phi. 
Streets Team members who are either currently or at-risk of becoming homeless and Cal State East Bay students worked side-by-side to learn about the efforts of the Hayward Downtown Streets Team. Their efforts focused on trash capture and waste reduction to help prevent litter from ending up in the Hayward storm drains.
The work was followed by an opportunity for students and Streets Team members to share about what they learned from the day and each other.
Andrea Wells, the center's community partnership coordinator, said Pioneers for Change wanted to do something local and something that honored the legacy of Dr. King. As a result, the partnership between the university, the city and Downtown Streets Team was created.  
"The city helped us so much in making this happen," she said. "From the police who opened their station as our base to the environmental services team to street maintenance department, they were all incredibly supportive." 
— Laura Hansen