SPRING 2020 FRESHMAN ORIENTATION
Incoming Spring 2020 students can sign up for orientation on MyCSUEB starting October 21, 2019. We offer one Freshman Orientation Program available at the Hayward campus:
Friday, December 6, 2019 (One-Day Program)
Orientation will run one full day, roughly 8:00am - 5:30pm.
International Students
If you are an international student on F1 visa, you can register for the December 6 Orientation session. Click Here to find out more information regarding your transition as an international student to CSUEB.
REGISTRATION & FEES
Once you pay the $110 pre-enrollment fee and submit your Statement of Intent to Register (SIR), you will have access to register for Orientation through MyCSUEB. 
Pre-Enrollment Fees for students are non-refundable. For more information on the Pre-Enrollment fee please visit the Office of Admissions' Pre-Enrollment Fee Information Page. 
The image below outlines how to navigate to the orientation registration once you sign in to MyCSUEB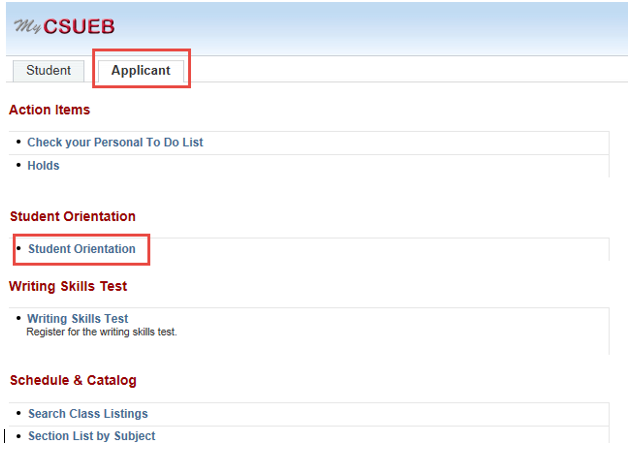 Further information will be sent to your student Horizon email approximately two weeks prior to the program. 
For questions or concerns, please contact Student Life and Leadership Programs via phone or email.
Email: orientation@csueastbay.edu
Phone: (510) 885-3872