Project Lead The Way
Fall 2017 Info session is now open for registration!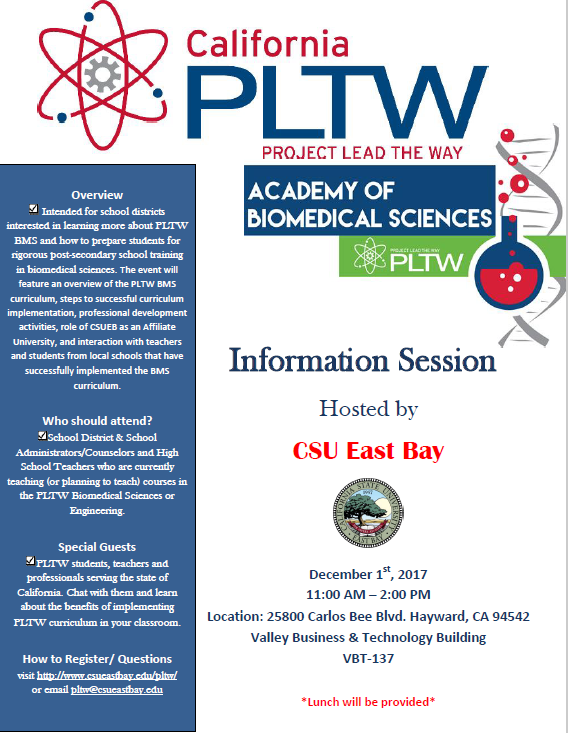 Project Lead The Way (PLTW) is a non-profit organization partnering with public schools, organizations in the private sectors, and higher education institutions to increase the number and quality of engineers, technologists, and biomedical professionals graduating from our educational system. PLTW relies on partnership, cooperation, and sharing among all participants and partners in its programs working together to provide a powerful learning experience. PLTW offers a strong grassroots support system for STEM education and a powerful institutional presence to create the best opportunities for students. PLTW's postsecondary affiliates play an important role in our network by providing professional development, college credit, program quality initiatives, and regional support and communication.
PLTW classes are hands-on, based in real-world experience and fun for students and teachers. It sets the highest standards for rigorous, focused, and engaging study, and develop students' innovative, collaborative, cooperative, and problem-solving skills. PLTW courses utilize project and problem-based learning that teaches students how to apply what they are learning to real-life situations.
PLTW classes include more than 300,000 students in nearly 3,500 schools in all 50 states, the District of Columbia, and the U.S. Virgin Islands. More than 500,000 students have taken a PLTW class. Those students enjoy success in a variety of fields and disciplines and have taken what they learned with PLTW far beyond the classroom. Since 2004, PLTW has used an independent service to conduct follow-up student testing and measure the programs' impact. Student assessments are gathered at the end of each PLTW course, rating student interest and engagement. Participating schools also conduct surveys on a local and state level, while PLTW partners contribute wider education assessments.
Contact Us
Project Lead The Way
California State University, East Bay
25800 Carlos Bee Blvd
Hayward, CA 94542
Oscar Wambuguh, M.Sc., Ph.D.
Director, PLTW Biomedical Science Core Training Program
Sharonda Frazier
Coordinator, PLTW Biomedical Science Core Training Program
Email: pltw@csueastbay.edu