Model United Nations
Here's what some students have to say: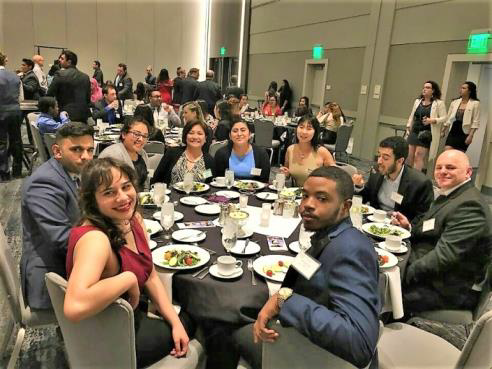 "Attending the conference like MUNFW is one of those things that define what the college experience is supposed to be about. I met people from around the world that share the same passions as me." - Nigel Quadri, 2016 delegate
"I also felt very proud about representing CSUEB at this conference, and it also felt great to be one of the nations that won at this conference. It was a great learning experience and I think it is something that I will never forget." - Tarundeep Singh, 2016 and 2017 delegate
"This UN class was one of the best class I've ever had. I already miss you guys! ... I wish you all the best and thank you for being part of this amazing American journey." - Giye Mun, 2017 delegate
"You get a lot of appreciation for people who do this for a living - it is stressful; it is a lot of hard work. You understand the complexities involved. [You learn] listening, compromise, sympathy. Those are all things that all professions need." - Lance O'Dell, 2017 delegate
"This will help in professional development in terms of "being more assertive" on what I want. Different people here from different schools so going up to different people, talking to them ... and less scared to talk to people and less shy about it." - Carolina Reyes, 2017 delegate


Model UN of the Far West Annual Conference 2018
Theme: "The Power of the Powerless: Strengthening Vulnerable Populations"
Committees: General Assembly, Security Council, Second Committee, Fourth Committee, Committee 34, Human Rights Council, Council of the Status of Women.