Fall 2020
---
Cal State University East Bay
Department of Theatre and Dance
in association with
Theatre Rhinoceros
presents
BLOOD AT THE ROOT
Directed by Darryl V. Jones
Streamed Performance Dates: November 6th at 7:30 pm
On-Demand Streaming November 7th until November 15th
Performance Location: Online Streaming of Recorded Zoom Movie
Check out our Blood at the Root Study Guide for more information about the play and the playwright.
BLOOD AT THE ROOT. A striking new ensemble drama based on the Jena Six; six Black students who were initially charged with attempted murder for a school fight after being provoked with nooses hanging from a tree on campus. This bold new play by Dominique Morisseau (Ain't Too Proud, Sunset Baby, Detroit '67, Skeleton Crew) examines the miscarriage of justice, racial double standards, and the crises in relations between men and women of all classes.
Moving, lyrical, and bold, Blood at the Root probes the complexities of race, individual freedoms, and what justice means when biases have been normalized. When the central character, a black female student named Raylynn, decides it's time for a change in her high school, she sits under a tree around which only white students regularly gather. In response—as was the case in Jena—nooses are subsequently hung from that tree, causing many black students to erupt in protest. Things come to a head when six black students, including Raylynn's brother, attack a white student and are brought up on trumped-up charges.
© 2020. This Audio-Visual Presentation was produced by special arrangement with Concord Theatricals Corp. All Rights Reserved. This Audio-Visual presentation is authorized for non-commercial use only. Further distribution of this presentation by download, streaming, reposting, broadcast, telecast, or in any other manner or medium, is strictly prohibited. A violation of the author(s)'s rights and actionable under applicable copyright law.
---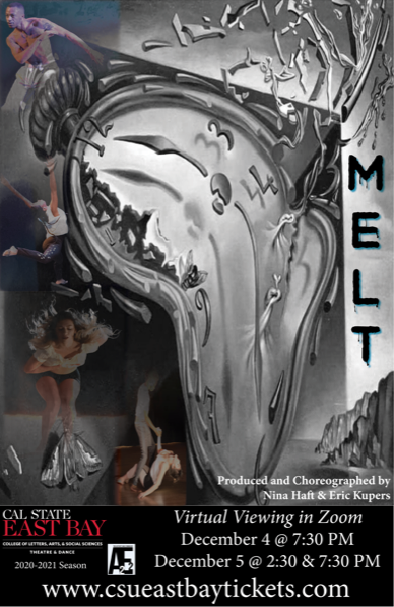 MELT
Producer & Choreographer: Nina Haft & Eric Kupers
Performance Dates:
Program #1 - Friday, December 4 at 7:30 pm
Program #2 - Saturday, December 5 at 2:30 pm
Program #3 - Saturday, December 5 at 7:30 pm
Location: Virtual Viewing in Zoom
**Note: When you reserve your tickets, use the "General Public" option.**
MELT is a weekend dance showcase of
powerful performance, created and performed by
Theatre and Dance students.
Join us in the community as we give voice to our bodies, minds, and spirits!
---
 
US in the U.S and A. Fajilan
present
WHAT HAD HAPPENED WAS...
Created by CSUEB Students
Directed by Tyler Jeffreys
Performance Dates: December 11th & 12th at 7:30pm
December 13th at 2:00pm
Performance Location: 
CSUEB Theatre and Dance YouTube Channel
&
US and the U.S. YouTube Channel
Each performance will be followed by a Community Circle hosted on Zoom.
**Note: When you reserve your tickets, use the "General Public" option.**
 "What Had Happened Was" Part One - The Past
This production will examine the oppression and destructive nature of White Supremacy. Taking a step further, we are renaming it "Supremacy Culture."  The anxiety, depression, and body dysmorphia we suffer from, along with the mass incarcerations and day to day bigotry, are all symptoms of this hate-fueled culture. If we are to defeat this monster, we have to figure out what it really is and what fosters its growth. This problem is much bigger than race relations between Black and White.
US in the U.S. hopes to expose the causes of the Supremacy Culture and help us all realize that we can make changes for the better of all persons. We must learn from the mistakes of the past in order to have a better today and create an even better tomorrow for all.