Meet Your Welcome Center Staff and Tour Guides
Meet Your Welcome Center Staff
Lena
Hello, I am excited to be your Welcome Center Advisor. I earned two Bachelor of science degrees from Humboldt State University and I have a Master's in Recreation and Tourism from here at Cal State East Bay. 
What I love about Cal State East Bay is the diversity, the views, and atmosphere. Cal State East Bay is a beautiful campus where you immediately feel at home. Since it's a medium-sized university, you get the family-vibe without losing access to a myriad of programs and clubs. The SF Bay Area location is perfect for exploring the city, the woods, the ocean, or any places in between. Cal State East Bay represents the best the Bay Area has to offer. My favorite place on campus is the Starbucks in the Library, because coffee and books! My most played song is "California Love," by 2Pac. My favorite quote du jour is "I never look back Darling; it distracts from the now!" from Edna Mode of "The Incredibles" because your tomorrow is what you make it, not what makes you. I hope you'll start your tomorrow with us at Cal State East Bay. See you on campus!
Meet Your Tour Guides!
Austin: Office Assistant Lead
Hello Everyone!
My name is Austin and I am the OG here at the Welcome Center. I am a graduating senior majoring in Kinesiology with a focus to work in Physical Education. I am currently the Office Assistant Lead here at the Welcome Center, though I have previously held many leadership positions in the office. Even though I was born here in the Bay Area, I grew up in Sacramento, CA. My dream job is to work for a professional or college sports team as a team trainer or as a coach. My transition from high school to college was difficult at first, as a lot was going on when I started school. However, the community, a couple of good friends, and the Welcome Center helped me adapt to the campus and made me feel comfortable. I chose East Bay because I loved the diversity the school offered. I felt like I fit right in and I was at home. My favorite quote is "Success isn't owned. It's leased, and rent is due every day." This quote by my favorite athlete, JJ Watt, reminds me that if I want to be successful, I have to work hard and strive to be the best every day.
Eduardo: Lead in Training
Heyo!
I'm Eduardo and I am a third year from Modesto, CA. I am majoring in Photography with a minor in Marketing. I hope to become a photographer for National Geographic. I chose CSU East Bay because it became my dream school after I visited it during my freshman year of high school. I mean its at the center of the Bay Area, there's a lot more opportunities for my career here, and the weather is much better than my home town. My transition to college has been really great, I have new friends, a good job, and my classes are going really well. "I'm not superstitious, but I am a little 'stitious." - Michael Scott. I love the office and vines. My most replayed song is "Sangria" by Easy Life, Arlo Parks.
Aiana
Aiana is one of our newest ambassadors!
Jazzmin
Hey!
My name is Jazzmin, and I am a transfer student from College of San Mateo. I am a Ethnic Studies major with a concentration in Black Studies. I'm originally from Baltimore Maryland, but I have been in the bay for about 6 years. I chose to attend Cal State East Bay because it is a diverse campus, where I knew I would be represented, and get the support I needed in order to achieve my academic and career goals. My career dream is to be a professor of Ethnic Studies at a junior college or university. My favorite quote was said by Malcolm X, "Education is the passport to the future. For tomorrow belongs to those who prepare for it today." My most replayed song is "Honey" by Mariah Carey.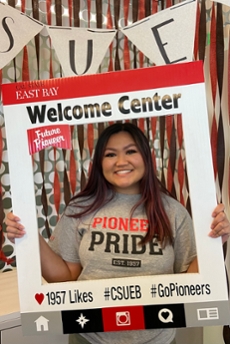 Krisstina
What's up everyone!
My name is Krisstina Caro, and I'm a first Gen Filipino student majoring in Human Development with a concentration in early childhood development! I hope to start my own childcare business or open up my own preschool. My top two favorite music artists are Olivia Rodrigo and Bruno Mars. I'm also a huge matcha lover! I chose East Bay because it was close to home. I was born and raised in Hayward, CA. I'm a huge believer in "everything happens for a reason." I made my way to the Welcome Center because I was having trouble connecting to campus since the majority of my first year was virtual. However, I'm excited to continue my journey at East Bay and help everyone out!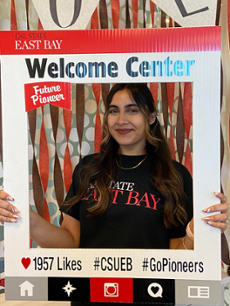 Isha
What's up!

My name is Isha! I am from Sacramento, but I was born in the bay area. My major is still undecided but I am leaning towards Criminal Justice. I started my first year of college during the pandemic, so I haven't gotten much college experience. But I am looking forward to making new memories and meeting new people! My favorite artists are Lil Durk and Summer Walker. I love to binge watch netflix! I have a passion for makeup and I'm hoping to pursue a cosmetology course on the side! I am a huge coffee lover! My motto is "It is what it is"

I'm excited to be one of the tour ambassadors of the Welcome Center!
Bethany
Hi!
My name is Bethany and I'm a third year majoring in Ethnic Studies with a minor in History. I'm originally from Stockton California. My goal is to become an Ethnic Studies or History teacher - ideally for high school or middle school students! I chose East Bay because of its great location and the campus size. My favorite artists are Mac Miller and Jhene Aiko and I love watching anime. My favorite lyric/quote is, "No matter where life takes me, find me with a smile" from Mac Miller's song Best Day ever. I hope everyone has a great year!
Sarah
Hey!!
My name is Sarah, and I am a second year majoring in Sociology and History. I am from Rohnert Park,CA and decided to come to East Bay for it's diversity and ideal location. I hope to become a teacher because of the immense amount of support I've received through my high school and at East Bay. My college experience was a little hesitant to start due to the pandemic, but I have found a sense of friendship here on campus. East Bay offers so much for its students to feel supported and safe on campus. I'm a real big fan of the Harry Potter franchise and am always open to a movie marathon. I am so excited to be at the Welcome Center offering my help to anyone that comes by!