Meet Your Welcome Center Staff and Tour Guides
Meet Your Tour Guides!
Austin: Office Assistant Lead
Hello Everyone!
My name is Austin and I am the OG here at the Welcome Center. I am a graduating senior, majoring in Kinesiology, with a focus to work in Physical Education. I have worked at the Welcome Center for four years and I am currently the Office Assistant Lead; though I have held many different leadership positions in office. Even though I was born here in the Bay Area, I grew up in Sacramento, CA. My dream job is to work for a professional or college sports team as a team trainer or as a coach. My transition from high school to college was difficult at first, as a lot was going on when I started. However, the community, a couple of good friends, and the Welcome Center helped me adapt to the campus and made me feel comfortable. I chose East Bay because I loved the diversity the school offered and I felt like I fit right in and I was at home. My favorite quote is "Success isn't owned. It's leased, and rent is due every day." This quote by my favorite athlete, JJ Watt, reminds me that if I want to be successful, I have to work hard and strive to be the best every day.
Eduardo: Lead in Training
Heyo!
I'm Eduardo and I am a third year from Modesto, CA. I am majoring in Photography with a minor in Marketing. I hope to become a photographer for National Geographic. I chose CSU East Bay because it became my dream school after I visited it during my freshman year of high school. I mean its at the center of the Bay Area, there's a lot more opportunities for my career here, and the weather is much better than my home town. My transition to college has been really great, I have new friends, a good job, and my classes are going really well. "I'm not superstitious, but I am a little 'stitious." - Michael Scott. I love the office and vines. My most replayed song is "Sangria" by Easy Life, Arlo Parks.
Aiana
Hey Y'all!
My name is Aiana Wright, and I'm a graduating senior here on campus majoring in Health Science. I am from Stockton, California, and decided to attend East Bay because of how welcoming the students and staff are. Not only are the individuals here amazing, but the beautiful campus itself with a view overlooking the city is also a feature that I cannot get enough of. With it being my last year here I have grown to really love the campus and appreciate all of the fun memories/experiences that I have gained. Not only do I work at the Welcome Center I am also a Resident Assistant for housing. Past involvement that I have been a part of is being President of Programming of Area 1 in Area Council and also working at the Accessibility Center. Being involved on campus helped me branch out and bond with many wonderful students and staff. My favorite movie of all time is Disney's The Incredibles, I grew up watching this movie constantly and it will forever be an all-time favorite of mine.
Jazzmin
Hey!
My name is Jazzmin, and I am a transfer student from College of San Mateo. I am a Ethnic Studies major with a concentration in Black Studies. I'm originally from Baltimore Maryland, but I have been in the bay for about 6 years. I chose to attend Cal State East Bay because it is a diverse campus, where I knew I would be represented, and get the support I needed in order to achieve my academic and career goals. My career dream is to be a professor of Ethnic Studies at a junior college or university. My favorite quote was said by Malcolm X, "Education is the passport to the future. For tomorrow belongs to those who prepare for it today." My most replayed song is "Honey" by Mariah Carey.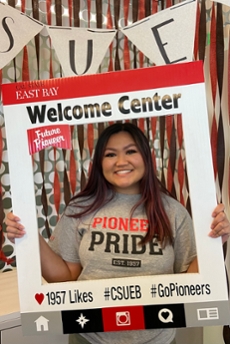 Krisstina
What's up everyone!
My name is Krisstina Caro, and I'm a first Gen Filipino student majoring in Human Development with a concentration in early childhood development! I hope to start my own childcare business or open up my own preschool. My top two favorite music artists are Olivia Rodrigo and Bruno Mars. I'm also a huge matcha lover! I chose East Bay because it was close to home. I was born and raised in Hayward, CA. I'm a huge believer in "everything happens for a reason." I made my way to the Welcome Center because I was having trouble connecting to campus since the majority of my first year was virtual. However, I'm excited to continue my journey at East Bay and help everyone out!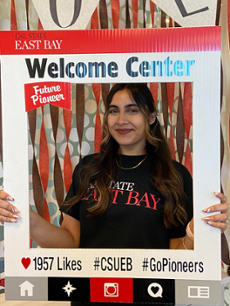 Isha
Hey Guys!
My name is Isha! I am a second-year student majoring in Criminal Justice. I'm from Sacramento, but I was born in Mountain View. I chose to attend East Bay because I wanted to be a part of a school that was big on representing diversity and supporting students with different backgrounds. My goal is to become a child attorney, along with pursuing my passion in cosmetology. I am a huge coffee lover! My top two artists who I listen to the most at the moment would be, Durk and Summer Walker. A quote that I love is, "Try to be a rainbow in someone's cloud." 
I'm excited to continue my journey here at East Bay, and meet all of you amazing people! <33
Bethany
Hi!
My name is Bethany and I'm a third year majoring in Ethnic Studies with a minor in History. I'm originally from Stockton California. My goal is to become an Ethnic Studies or History teacher - ideally for high school or middle school students! I chose East Bay because of its great location and the campus size. My favorite artists are Mac Miller and Jhene Aiko and I love watching anime. My favorite lyric/quote is, "No matter where life takes me, find me with a smile" from Mac Miller's song Best Day ever. I hope everyone has a great year!
Sarah
Hey!!
My name is Sarah, and I am a second year majoring in Sociology and History. I am from Rohnert Park,CA and decided to come to East Bay for it's diversity and ideal location. I hope to become a teacher because of the immense amount of support I've received through my high school and at East Bay. My college experience was a little hesitant to start due to the pandemic, but I have found a sense of friendship here on campus. East Bay offers so much for its students to feel supported and safe on campus. I'm a real big fan of the Harry Potter franchise and am always open to a movie marathon. I am so excited to be at the Welcome Center offering my help to anyone that comes by!