2022 PROGRAM DESCRIPTION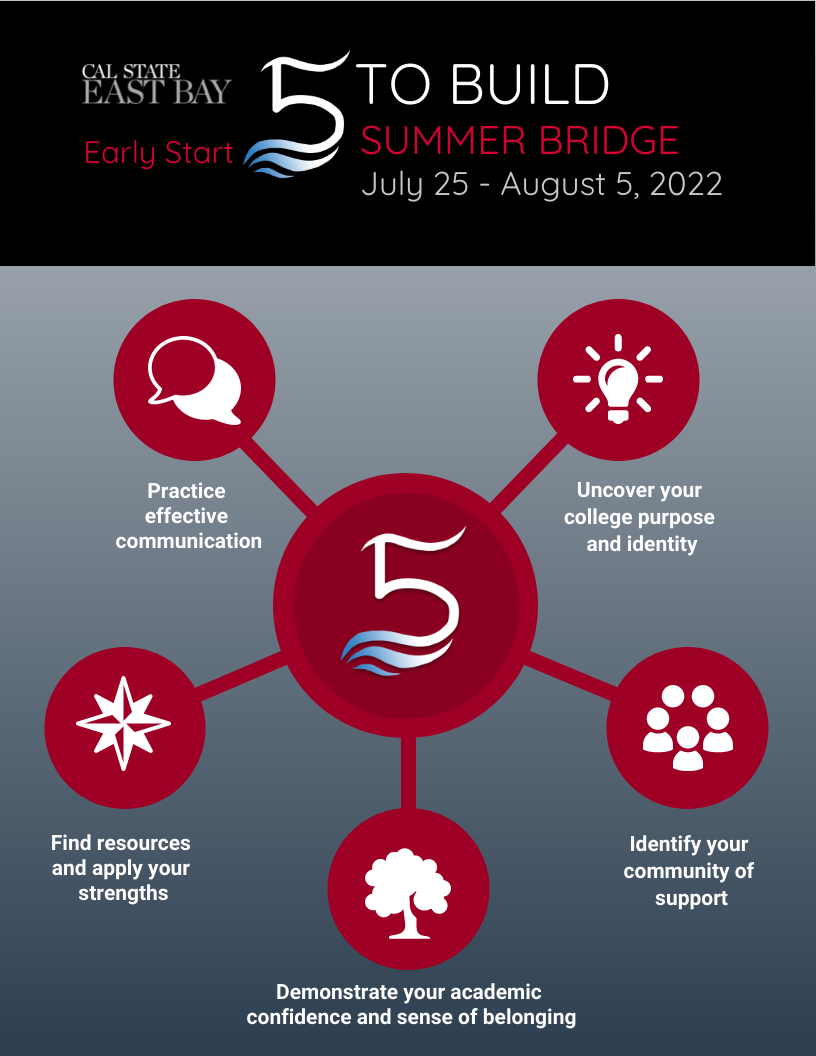 Congratulations on your admission and your plans to enroll at Cal State East Bay!  We warmly welcome you to our campus.  We look forward to supporting you on your college journey right from the start.
Early Start 5 TO BUILD Summer Bridge is a two-week, fully online program designed to help Cal State East Bay's incoming freshmen transition to college and prepare for different instructional modalities. The goals of 5 TO BUILD are to build community (connect with other students), foster the skills and mindset needed for remote/in-person learning at the college level, and support a seamless transition to fall semester.  
WHO.  All incoming Cal State East Bay freshmen who eligible for Early Start are welcome. 
WHEN.  Early Start 5 TO BUILD is offered online from July 25 - August 5, 2022, Monday thru Friday, for 3 hours online/synchronous each day.  In order to participate, students must enroll in one section of GS 100 Bridge to Success.  There are two options for GS 100:
 1 | GS 100-01  M-F  9:00 AM - 12:00 PM  OR
 2 | GS 100-02  M-F  1:30 PM -  4:30 PM
 WHAT.  Completion of the 5 TO BUILD program fulfills any Early Start requirement and fulfills 1 unit of the 3-unit GE Area E requirement.  First-year students who complete GS 100 Bridge to Success (1 unit) in the Summer, GS 101A Foundations of Success I (1 unit) in the Fall, and GS 101B Foundations of Success II (1 unit) in the Spring will fulfill the GE Area E requirement by the end of the year.  Collectively, these courses are part of the Cal State East Bay's First-Year Experience Program for freshmen.  
Instructions on how to enroll/register are detailed below.  You can also download an infographic about the program which also contains the step-by-step instructions on how to register.  
EARLY START REGISTRATION OPENS MAY 9, 2002. DEADLINE TO ENROLL IS JULY 1, 2022. 
Scroll down for more details on how to enroll.
In addition to enrolling in GS 100, please also complete the Student Interest Form here by June 24, 2022, so we can find out how to get your free learning kit to you (package full of freebies--all the supplies you'll need for the program, as well as extras that will be useful for your first year at Cal State East Bay).
Please contact your FASST advisor or email f22frosh@csueastbay.edu if you need help enrolling!