Silvina Ituarte Faculty Profile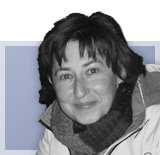 Silvina  Ituarte
Associate Provost & Professor
Dr. Silvina Ituarte came to CSUEB in 2003 after teaching at Kean University in New Jersey for eight years. While at Kean, Dr. Ituarte earned the honor of Professor of the Year in 2001 and served as Director of the Criminal Justice major, Director of Service Learning, and Assistant Chair of the Public Administration Department.
Dr. Ituarte's teaching and research interests mainly focus on issues related to bias crimes (hate crime), juvenile delinquency; correctional system; social justice; and research methodology. Her strongest qualities are her interest and passion in the subject matter; a true commitment to bringing out the best in students; a commitment to excellence in teaching and scholarship; as well as enthusiasm and a teamwork attitude. In the upcoming years, she hopes to continue her personal growth by pursuing more opportunities such her adventure teaching Scholarship and Research to government officials in China, and making a meaningful contribution to the understanding and reduction of bias-motivated behaviors.
Dr. Ituarte began her interest in criminal justice as an undergraduate enrolled in the Social Ecology and Humanities Programs at University of California at Irvine. She went on to receive her doctorate from Rutgers University in New Jersey where she began her ethnographic study of bias-motivated offenders under the guidance of Dr. Mercer Sullivan. Her research interests focus on gaining a greater understanding of bias motivated behaviors, social problems, juvenile delinquency, and correctional systems. She has presented on these and other topics at both national and international conferences.
Before entering graduate school, Dr. Ituarte was a Victim Specialist for the Victim Witness Program in California in which she helped survivors of domestic violence obtain restraining orders against their offenders and receive assistance from local shelters. While in graduate school, she expanded her work experience by screening domestic violence offenders and placing them in a court ordered program in Manhattan, New York. During this time, she also served as a part-time research assistant for the Anti-Violence Project to assist with the data collection and coordination of the annual Bias Crime Report.