Christina Chin-Newman Faculty Profile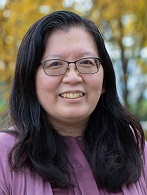 Christina  Chin-Newman
Professor
Phone: (510) 885-4570
Office: MI 4035
Vitae: View my CV
Home Page: http://www.csueastbay.edu/acelab
Note: CSUEB does not pre-approve, monitor, or edit personal pages. Faculty members are solely responsible for their content, and are expected to conform to the policy guidelines of CSUEB.
Dr. Chin-Newman is a faculty leader on campus who serves as the elected Diversity and Equity Liaison Officer (DELO), Chair of the Faculty Diversity and Equity Committee (FDEC), and Vice Chair of the Academic Senate.  She also co-leads the Disability Justice Working Group.
Dr. Chin-Newman is interested in creativity and the arts, especially the arts and social relationships, youth arts participation, and inclusive performance.  She also conducts research on social support and college student success, recently focusing on students with learning differences or any type of disability.
To learn more about her research, please visit the website of the Arts, Creativity & Education (ACE) Lab: http://www.csueastbay.edu/acelab