Marcelo Paz Faculty Profile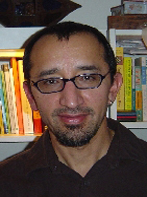 Marcelo  Paz
Associate Professor
Aside from teaching all levels of Spanish language courses, Dr. Paz teaches a variety of courses on Latin American literature and culture, such as "Del texto a la imagen: Literatura y cine en América Latina" and "The Latin American World," as well as surveys of literature from the pre-Columbian era to the present. His classes are informed by multidisciplinary approaches and emphasis on cultural studies and current theoretical discourses (postmodernism, postcolonialism, new historicism). As director of the Latin American Studies Program, Professor Paz keeps up a dialogue with majors and organizes film screenings, lectures and other cultural events.
His area of studies is 20th century Southern Cone narrative with special emphasis on the novel of the Argentine military dictatorship, as well as recent fiction and film. Dr. Paz has worked on a few independent film projects in Ohio, Argentina and Honduras. He has participated in numerous conferences, reading papers on Argentine novels and films and dealing with such issues as new forms of historical narratives, post-Boom fiction, Latin American postmodernism and Latin American cultural studies. He is the author and translator of articles and reviews and has contributed to Latin American Postmodernity, a Reader, which features articles by Octavio Paz, Jorge Luis Borges and Nelly Richard.
Prior to joining the faculty at Cal State East Bay, Dr. Paz practiced law in Buenos Aires, taught for UC Berkeley Extension (1997), and was a lecturer in the Department of Modern Languages and Cultures at Notre Dame de Namur University (1996-1999) and Assistant Professor of Spanish at the University of Evansville in Indiana (1999-2001).
Fall Semester 2023

| Course # | Sec | Course Title | Days | From | To | Location | Campus |
| --- | --- | --- | --- | --- | --- | --- | --- |
| MLL 141 | 02 | Elem Spanish I | ARR | | | WEB-ASYNCH | Online Campus |
| MLL 141 | 05 | Elem Spanish I | ARR | | | WEB-ASYNCH | Online Campus |
| MLL 343 | 01 | Spanish Composition & Syntax | ARR | | | WEB-ASYNCH | Online Campus |