Marko Bajzer Faculty Profile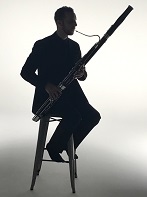 Marko  Bajzer
Lecturer, Composition & Theory
His music being praised as "a beauty," (
Music in Cincinnati
), 
Marko Bajzer
(b. 1989) is a Croatian-American musician and artist based in San Francisco. His music often uncovers the beauty of simplicity and is influenced by post-minimalism, impressionism, romanticism, modern life, and humor. 
COMPOSITION
Bajzer
has written for a variety of media, including wind ensemble, orchestra, chamber music, voice, and electronics. His works have been performed by such ensembles as the Cincinnati College-Conservatory of Music Wind Ensemble, the CCM Brass Choir, the CCM Chamber Players, San Francisco Choral Artists, Yerba Buena Brass Quintet, Splinter Reeds Quintet, the Blue Lake Festival Orchestra, the Blue Lake Festival Band, and numerous pick-up chamber groups.
Bajzer
's current projects include a piece for orchestra and narrator entitled "I Read it on Reddit: a Gen-Y Symphony," which draws inspiration from the popular, social news/entertainment website, reddit.com. His piece, "Zrikavac" was a finalist for the ASCAP Morton Gould Young Composers Competition, and "Wind Sextet," was selected for the CCM SCI Recording Project. His primary teachers include Mason Bates, Joel Hoffman, Dan Becker, Douglas Knehans, Ellen Harrison, Michael Fiday, and David Schneider.
BASSOON
Bajzer
is also an active performer. His passion stems from sharing with the audience obscure works  that are high in quality. He is currnetly an artist in residence with the Lincoln Theatre where he is the 2nd bassoonist in Symphony Napa Valley. Previously He was the principal bassoonist of the Austin (MN) Symphony Orchestra and the Mayo Clinic Chamber Symphony Orchestra. An active soloist,
Bajzer
was featured by the Rochester Chamber Music Society and the Mayo Clinic Chamber Symphony Orchestra. His primary teachers include William Winstead, John Miller, Martin James, and Jennifer Welch.
ADMINISTRATION
Bajzer
's work as a composer and performer has naturally led him to also produce various concerts and series. While in Cincinnati, he helped produce a series of American Music Recitals through Phi Mu Alpha Sinfonia Fraternity. In San Francisco he was a co-producer for the Hot Air Music Festival, a day-long marathon of new music taking place at the San Francisco Conservatory of Music. Currently he serves as the General Manager to Mercury Soul, an organization that produces a shows that combine classical music and electronic dance music led by Mason Bates.
TEACHING
It is important to 
Marko
 to enable others to participate in music and to educate future generations of musicians. He has taught at Walnut Hills High School in Cincinnati, Ohio, the Rochester Catholic School District in Rochester, Minnesota and the KIPP San Francisco College Preparatory. He currently teaches music theory at the Ruth Asawa School of the Arts. He also offers private lessons on bassoon, and theory/composition.
ART
Bajzer
has produced a number of paintings and sculptures, the latter of which has utilized shards of broken mirror as the primary medium. As an artist aims to find a balance between abstraction and personal connection, creating paintings that take symbols with personal meaning and reimagining them with creative and aesthetically pleasing designs. His primary influences are Mondrian; his godfather, 
Marko
Spalatin; and stained glass windows.
EDUCATION
Fall Semester 2022

| Course # | Sec | Course Title | Days | From | To | Location | Campus |
| --- | --- | --- | --- | --- | --- | --- | --- |
| MUS 180 | 01 | Composers Workshop | MW | 1:00PM | 1:50PM | MB-1521 | Hayward Campus |
| MUS 467 | 02 | Applied Study: Composition | ARR | | | ARR | Hayward Campus |
| MUS 667 | 03 | Grad. Applied: Composition | ARR | | | ARR | Hayward Campus |
| MUS 667 | 04 | Grad. Applied: Composition | ARR | | | ARR | Hayward Campus |