Divesh Karamchandani Faculty Profile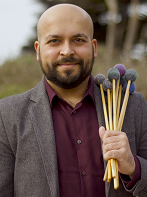 Divesh  Karamchandani
Lecturer, Percussion
Divesh Karamchandani is a San Francisco-based
percussionist performing regularly in chamber music and large orchestral projects throughout the Bay Area. Karamchandani is the Principal Percussionist of Opera Modesto and One Found Sound, a San Francisco conductorless chamber orchestra. His other notable performances include the New Century Chamber Orchestra, Stockton Symphony, Monterey Symphony, San Francisco Contemporary Music Players, San Francisco Symphony and Sacramento Philharmonic & Opera.


Karamchandani is an advocate of contemporary music and seeks to champion works by diverse composers. He is a co-founder of Prism Percussion, a duo that explores the expressive colors of percussive sounds by underrepresented composers. Through his solo ventures and his involvement with Prism Percussion, Karamchandani has been a participant of many commissioning consortiums. His arts advocacy work drove him to join the Board of Directors for the New Works Project, a non-profit organization promoting equity in commissioning and performing new music by lowering financial barriers and increasing representation.


Karamchandani graduated in 2012 from California State University (CSU), Stanislaus with a Bachelor of Music in Percussion Performance and Instrumental Music Education. In 2014, he graduated from the San Francisco Conservatory of Music with a Master of Music in Percussion Performance. He studied under the tutelage of Jack Van Geem, Jacob Nissly, James Lee Wyatt III, Chris Woodham and Allen Brown. 


Karamchandani was recently appointed as the Director of Percussion Studies at both CSU Stanislaus and CSU East Bay, in addition to working as an adjunct Professor of Percussion at West Valley College. He maintains a private studio at the French American International School. He is also a Teaching Artist with the San Francisco Symphony's Music and Mentors program which provides weekly group lessons to music students in San Francisco public schools.
Karamchandani's educational impact has garnered him an endorsement as a Marimba One Educational Artist.