Emily Kupitz Faculty Profile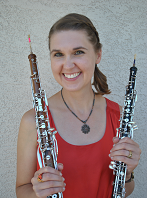 Emily  Kupitz
Lecturer, Oboe
Emily Kupitz earned a DMA and masters in oboe performance from Arizona State University, where she studied with Martin Schuring. She has performed extensively in the Phoenix, AZ, Milwaukee and Eau Claire, WI, and San Francisco Bay Areas. Currently she can be seen most frequently with the Stockton Symphony and Reno Philharmonic. She also performed as an invited recitalist on oboe and piano for the 2021 International Double Reed Society's Virtual Symposium.


Dr. Kupitz is a passionate educator who delights in inspiring a love of music in students of all ages. Her bachelor's degree is in music education from the University of Wisconsin-Eau Claire, where she studied with Dr. Christa Garvey. Through her private studio, as a faculty member at the UW-Eau Claire Double Reed Camp for four years, and now at CSU-East Bay, she has taught oboists from ages 9-82. She believes that no student is too young or old to be given a solid foundation. She also currently teaches music and is the choir director at St. Lawrence Elementary and Middle School in Santa Clara.

During her tenure at the UW-Eau Claire Double Reed Camp, she was commissioned to arrange a piece entitled "Beethoven Musical Chairs" for a double reed quintet, and more recently a Beethoven 3 medley for oboe/English horn quartet for younger musicians of a variety of ability levels. She also arranged several other pieces for double reed large ensemble and quintet for the camp, including a medley from the musical Hamilton.

Dr. Kupitz is also a collaborative pianist, musical theater music director, and studied opera vocal coaching with Dr. William Reber while working as the TA for the Arizona State Musical Theater and Opera program. As the TA and later staff pianist and Faculty Associate, she accompanied musical theater and opera classes, music directed the student musicals, coached operas in German, Italian, and English, and was the rehearsal accompanist for the musicals and operas.

She balances her musical pursuits with raising her two young boys, teaching them piano and getting them hooked on musical theater, and taking them on all the adventures she can.