Saúl Sierra-Alonso Faculty Profile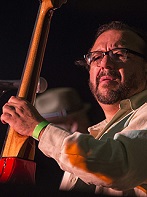 Saúl  Sierra-Alonso
Lecturer, Latin Jazz
Phone: (510) 885-3135
Home Page: https://saulsierra.com/
Note: CSUEB does not pre-approve, monitor, or edit personal pages. Faculty members are solely responsible for their content, and are expected to conform to the policy guidelines of CSUEB.
Saúl Sierra-Alonso joined the CSUEB Music faculty in fall, 2010 as director of the Latin Jazz Ensemble. He was born and raised in Mexico City, where he started playing professionally in 1990. He moved to Boston Mass. in 1995 and attended the Berklee College of Music where he graduated in the summer of 1999, with a major in Performance. Some of his teachers included Oscar Stagnaro, Rich Appleman, Daniel Morris, and Jim Stinnet. He received the US Scholarship tour award and the Outstanding Performer award at Berklee.


As a resident of the San Francisco Bay Area since the fall of 1999, Saúl has performed, toured or recorded with Nestor Torres, Jimmy Bosh, Eddie Montalvo, Johny Rodríguez, Orestes Vilató, Bobi Céspedes, Antonio Sánchez, Miles Peña, John Santos, Jesús Díaz, Rebeca Mauleón, Mark Levine, Greg Landau, Mike Spiro, Jackeline Rago, Chuchito Valdez, Alexander Livinali, Wayne Wallace, Aquiles Baez, Marco Granados, Anthony Blea, Doug Beavers, and María Márquez, among others.

For the past 10 years Saúl has been a member of some of the leading bands in the Bay Area, including The John Santos Quintet/Sextet, Bobi Cespedes' band, Dr. Loco's Rocking Jalapeño Band, El Tren Trío, Anthony Blea y su Charanga, The Snake Trío, Jesús Díaz y su QBA, The Bay Area Afro-Cuban All Stars, The Venezuelan Music Project, Corazón Sur, and Sababa band.

A founding member of Vission Latina, the band that he co-leads with Carlos Caro, percussionist extraordinaire, and Marco Díaz, virtuoso multi-instrumentalist (piano/trumpet), Saúl keeps himself busy performing, composing, arranging and teaching in the world class musical community of the San Francisco Bay Area.