Dann Zinn Faculty Profile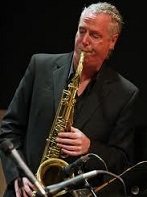 Dann  Zinn
Lecturer, Saxophone, Director of Jazz Studies
Dann Zinn plays saxophones, flutes, and various ethnic flutes. He has recorded or performed with Joe Henderson, Russell Ferrante (from The Yellow Jackets), Chuck Findley (The Tonight Show), Jeff Tain Watts, Freddie Hubbard, Mary Wells, and Martha and the Vandellas, among many others. He has recorded on over twenty-five CDs as a featured soloist, including numerous Dave Eshelman Jazz Garden Big Band CDs, as well as the classical crossover hit Bach Improvisations with the Ira Stein Group. He tours throughout the United States, Canada, and Mexico.


Locally, he has been featured at the Monterey Jazz Festival, San Francisco Jazz Festival, San Jose Jazz Festival, Yoshi's Nightspot, and the Kuumbwa Jazz Center among countless others. His first solo recording of original music entitled ten songs has garnered critical acclaim throughout the United States and Europe from such prestigious publications as Jazz Times and Jazziz. Other performances include numerous television, radio, and multi media projects, such as Tiger Woods and John Madden video games, Kangaroddy children show on PBS, and a Willie Mays special on CBS. He is currently working on a series of tone and technique books which present various systems for organizing scales and related subjects.

Dann has taught saxophone, big bands, jazz combos, history of jazz, history of rock and roll, music appreciation, and applied woodwind classes at Cal State University, East Bay for eleven years. He has been on the faculty of U C Berkeley for eight years and is also on the faculty of the Dave Brubeck Institute and the Jazz School. His private studio has yielded some of the nation's most promising high school musicians. Many have received full, four year scholarships to some of the nations top music schools, as well as winning Down Beat magazine awards, and occupying top spots in nationwide and statewide all star bands. He has received two teacher recognition awards from the National Foundation for Advancement in the Arts, and been selected for inclusion in Who's Who Among America's Teachers, 2005. Dann has studied with Eddie Daniels, Ernie Watts, Lenny Pickett, Richard Mathias, Gary Gray, and Michelle Caimotto among others.
Fall Semester 2023

| Course # | Sec | Course Title | Days | From | To | Location | Campus |
| --- | --- | --- | --- | --- | --- | --- | --- |
| MUS 264 | 03 | Applied Study: Woodwinds | ARR | | | ARR | Hayward Campus |
| MUS 317 | 01 | Improv Tech I | W | 3:00PM | 4:40PM | MB-1039 | Hayward Campus |
| MUS 355 | 01 | East Bay Jazz Orchestra | MW | 1:00PM | 2:50PM | MB-1039 | Hayward Campus |
| MUS 368F | 01 | Jazz Composers Ensemble | M | 3:00PM | 4:40PM | MB-1039 | Hayward Campus |
| MUS 464 | 02 | Applied Study: Woodwinds | ARR | | | ARR | Hayward Campus |